Tuesday 28 June 2022
Top reasons to enter the Learning Technologies Awards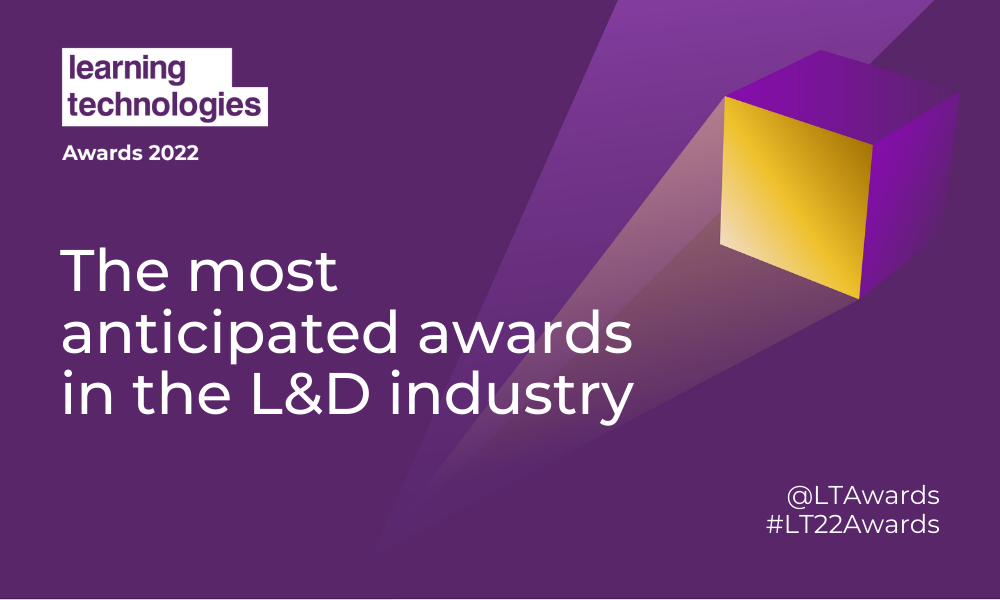 The largest and best-known celebration of outstanding workplace learning worldwide is back! The glittering gala evening, where the winners are exclusively revealed, will take place on 16 November 2022 at the Park Plaza Westminster Bridge Hotel in London, with over 800 guests expected. The gala evening will showcase the industry's great successes of 2022, a black-tie L&D celebration not to miss.
Registration for entries is now open and all you have to do at this stage is to select your categories and then complete the registration form before 15 July 2022. The finalists will be selected by an independent judging panel of experts organised by the Learning Network. There are 20 categories to choose from, providing an incredible opportunity to profile the great work you are doing. So, why should you enter? Read our top reasons to enter the Learning Technologies Awards.
Gain global media coverage
Learning Technologies provide invaluable media coverage, both nationally and internationally, meaning your participation is displayed to professionals across the globe. This sets you apart from your competitors. The chance of winning also helps to cement your reputation in the industry among other L&D organisations and professionals.
Showcase your learning and development expertise
This leading L&D awards event provides you with the chance to promote the great work you are doing, benchmark your business and look at your organisation from a fresh perspective in comparison to your competitors. By entering the awards and promoting your involvement, you bring valuable coverage to your marketing learning programmes and promote your expertise in workplace L&D. Just being shortlisted can help improve your organisation's brand awareness, showcasing your active involvement in the L&D community.
Build customer trust
Winning one of the Learning Technologies Awards is an independent endorsement; with the judging panel free from external influence. This type of award proves your corporate credentials and will build trust with potential customers. These prestigious awards will also impress prospective investors, showing the great work you are doing and positioning your organisation as a key player in the L&D industry. You can maximise brand exposure by updating your marketing materials with your shortlisted status or winner logo. If this all sounds like something your organisation could benefit from, explore the categories for this year's awards to get involved.
Motivate your team and attract top talent
Being involved in this event will send an inspirational message to your team. When an organisation participates in a highly sought-after awards, it provides a huge boost to that organisation's morale. It shows them that their good work and achievements are worth showcasing on a national and international level. This, in turn, attracts new talent. Business awards help to validate your hiring prominence to potential recruits, and with your current employees happy, rest assured external professionals will be drawn to your organisation.
Network with other L&D professionals
As with any Learning Technologies event, the chance to network with L&D professionals is an integral element. With 800 guests in 2021, the Learning Technologies Awards is a guaranteed meeting place for L&D professionals all passionate and dedicated to the industry. Network with like-minded professionals and exchange a variety of L&D insights in a glamorous black-tie setting. People stay in touch via our social channels, so the connections don't stop when the event does.