Friday 24 June 2022
Winner insights into the Learning Technologies Awards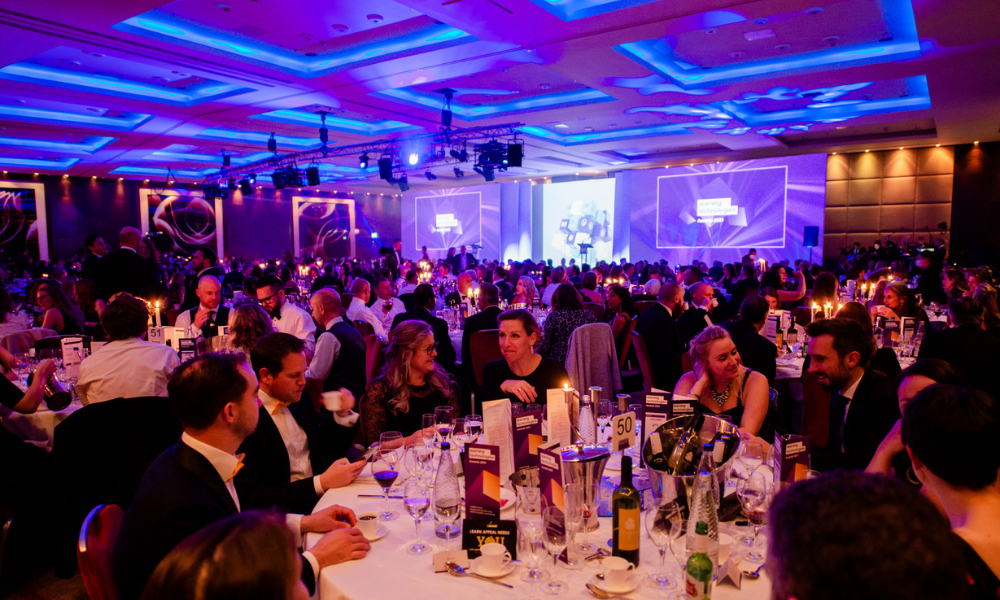 Learning Technologies is keen to recognise professionals for their dedication to Learning & Development. At the Learning Technologies Awards, not only are L&D professionals rewarded for their hard work, but the community is also brought together at a glistening gala evening to celebrate another year in this amazing industry.
Don't miss the opportunity to enter, as your team has a chance to win. All you have to do at this stage is to select your categories and complete the registration form before 15 July. You then have until 29 July to submit your entries - information on how to do this will be sent to you on 15 July.
The glittering gala evening, where the winners are exclusively revealed, will take place on 16 November 2022 at the Park Plaza Westminster Bridge Hotel in London, UK with over 800 guests expected. To give you a taste of the Learning Technologies Awards experience, read on for an exclusive interview from one of the silver winners of 2021.
Megan Yawor – Global Learning Experience Design Manager, Boston Consulting Group (BCG)
Hi there Megan, thank you for your time today. Firstly, congratulations on winning the Silver Award for Leading Developer of the Year at the Learning Technologies Awards 2021. Can you tell us a bit about your Learning Technologies Awards experience and the award you received?
Megan: Last year I worked on a L&D team and we had just recently, as of 2019, had team members moved to the UK and I transferred to England. We had entered L&D awards previously in the US, but I was trying grow my network here in the UK. I subscribed to the Learning Technologies newsletter to stay connected, and I got an email about the Learning Technologies Awards. What stood out to us as a team was the fact it was a learning awards event with a technology focus. My role focused heavily on the technology aspect of L&D, and we'd never seen awards like this, that focused and recognised this sort of talent. I think, especially after COVID-19 when learning was shifted into a difficult hybrid space, it was exciting to see an event like this – and this is partly why we entered.
We entered both the blended learning and learning developer categories. We worked on application quite extensively, telling the story of who we were and what I'd achieved. I remember tuning in on Twitter when the shortlists were announced, seeing such big company names listed, and thought it was such tough competition I had no chance of being shortlisted. I was so happy when I was!
I had never been to a black tie event like the Learning Technologies Awards before. The networking was great, with so many people passionate about L&D and helping to facilitate learning. I hadn't met a lot of L&D people that did what I did previously, so this was all very exciting and new. The night itself was special – I was very surprised to win, and remember thinking 'oh wow, that's me!' When I started my current job, I remember looking at pictures from the event and seeing how happy I looked. It was an amazing opportunity to explore what could be possible in L&D after staying in the COVID-19 digital environment.
Why do you think the Learning Technologies Awards are important for the industry?
Megan: I think L&D was this quiet affair going on in the background within the corporate space, and this event encourages people to show what passion truly drives it. The L&D industry is now becoming so much bigger. So many studies show you can pay employees a lot, but if you're not growing L&D and showing investment in growth, there's something missing. This event meant being with people who support this growth, and it's a great place to hear ideas, to see what we really can do as L&D professionals. It's not about new tools, nor what can they do – it's what we can make them do and be creative with that.
What did winning mean for you team?
Megan: Everybody was really excited, especially because it was an international award, it was a big deal for us. My team were obviously very excited for me and very supportive. That career was a complete change – for me it was a full circle of change and evolution, and my team saw that. There was a lot of excitement and sharing within the company, across different offices, really bringing employees together under inclusive company culture. The Learning Technologies Awards was a great and tangible representation of this kind of great company culture.
What did winning mean for you? How has the award impacted your career?
Megan: It was a representation of what is possible for me and everybody, if you keep pushing yourself. For me at the end of COVID-19, it was two years of very intense work. I was the only one working in that type of role, and after hard work of getting creative with technologies, it was a big 'wow, I did that!' I grow so much in that time, and the Learning Technologies Awards was this amazing, rewarding 'wow moment' at the end of that growth and hard work. The work I tried so hard at was all working towards something amazing.
What are looking forward to in L&D this year?
Megan: It's always seeing technology changing things – I don't think we anywhere close to done with L&D. We're at amazing moment of change. As a community, we are coming together and learning from each other, and I'm really excited to be part of it. We need to push and test things to see what works in building interactive experiences, battling the zoom fatigue with the new normal and make learning fun. It's key to get people learning without them realising it's happening. In 2022, we're just at the beginning of what could be in L&D.
Do you have any final thoughts or message for the Learning Technologies community?
Megan: The Learning Technologies Awards was an amazing experience. Even writing the application, putting your hard work down as a story was both interesting and reflective in itself. The gala evening was amazing and lots of fun, and winning an award was the cherry on top. It's really great to have a community who are passionate about L&D and working towards the same thing. The Learning Technologies Awards showed how much creativity is in this space, and I wish everyone could see that. I can't wait to see what's next!