Monday 2 May 2022
ACI Learning Launches Video Wall Teaching Tool at 2022 Learning Technologies Conference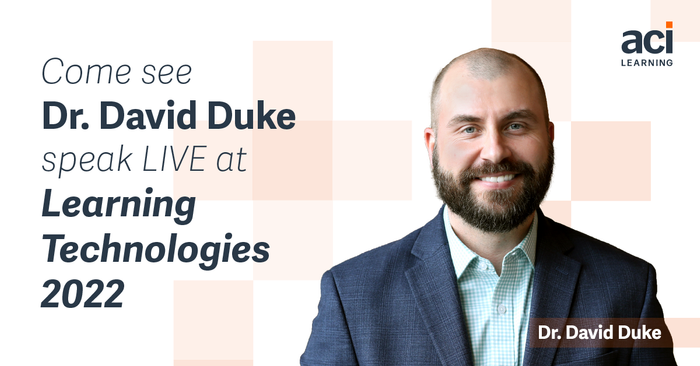 Chief Product Officer, David Duke, will present a seminar to debut ACI Learning's new capabilities that balances professional broadcast media and innovative online learning design.
Denver, CO, May 2, 2022 – ACI Learning, the leading subscription-based Audit, Cyber-Security and IT training platform provider, today announced that Chief Product Officer, Dr. David Duke, will speak at the 2022 Learning Technologies Conference. Duke will present the session, "Video wall applications - Creating "wow factor" IT and cyber training" on Wednesday, May 4 at 2:00pm BST during Europe's leading workplace learning event. Attendees will gain a firsthand look at ACI Learning's latest innovations in self-paced online IT training and certification courses.
Video has become ubiquitous in our everyday lives; we have screens everywhere, and everyone can create video. The science is changing, and engagement metrics are confounding. This presents a particular set of challenges for video on-demand training providers and other educators who know they should use video, but don't know how to use it effectively. At their world-class studio facility in Gainesville, Florida, ACI Learning has developed a set of capabilities that balances the expertise honed in professional broadcast media and innovative online learning design. This video wall teaching tool will be leveraged to create unique IT, cyber, and audit training published by ACI Learning company, ITProTV.
"In today's world, we're constantly exposed to video - which almost anyone can create. This poses challenges for many of today's educators, who are competing with an influx of content creators and are trying to navigate the best ways to use video as an educational channel. The result is that it's harder today to produce high quality content that will not only help educate students and learners on a particular topic, but also that will keep them engaged," said Duke. "I look forward to presenting at the Learning Technologies Conference, and introducing ACI Learning's approach for bringing a "wow factor" back to online learning."
Duke is a psychologist and tech executive with a passion for working at the intersection of technology, people, and culture. An established expert in using technology to enhance learning, Duke has designed industry-leading online degree programs at elite universities, which have been recognized by The Princeton Review and U.S. News and World Report. Commercially, he has a track record of consulting with companies in almost every industry to build industry-defining EdTech and training products.
During the May 4 session at Learning Technologies, he will introduce ACI Learning's new teaching wall, which can display anything from a computer to a video to an interview guest. It allows instructors to easily point to areas of interest on the screen to help the learner, which is especially helpful for things like computer code where the trainer needs to highlight specific sections of focus. ACI Learning will be highlighting all of the ACI family of companies during Learning Technologies, including ITProTV, PracticeLabs and ACI Learning's Audit training, in the expo hall at stand L20.
To obtain a conference pass, please click here. To stay up to date on all of ACI Learning's news, please visit https://www.acilearning.com/.
About ACI Learning
ACI Learning trains leaders in Cybersecurity, Audit, and Information Technology. Whether they're starting their career, mastering their profession, or developing their team, ACI Learning is with them every step of the way. ACI Learning believes that training is not a transaction, but an ongoing essential of life-long learning and career growth. The company helps professionals choose which learning path suits them best, delivers personalized training in the way they want it, and helps them to find the right career opportunity. To learn more, visit https://www.acilearning.com/.
Media Contact
Henry Ruff
LaunchTech Communications
hruff@golaunchtech.com
443-504-2331