Better decisions for your data with Kineo Analytics at Learning Technologies 2023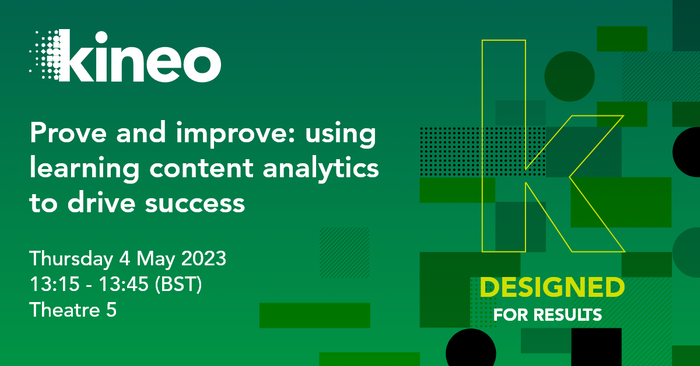 We're delighted to announce Kineo will be attending the 2023 Learning Technologies event in London Excel on 3rd-4th May. We're honoured to be returning to the most prestigious event in learning technology and looking forward to showcasing our brand-new service Kineo Analytics with a new audience.
Kineo Analytics works as a cloud service and tracks data across the full learning experience allowing Learning and Development professionals to identify how learners perform in, engage with and react to courses and to capture a holistic view of how effectively they are building skills.
Kineo Analytics is built into Kineo's Adapt authoring environment and included with Kineo's learning content design and development services at no additional cost. Most organisations will have access to SCORM data which is focused on completion and assessment scores, with Kineo Analytics designed to complement and augment rather than replace this data. It takes things a step further, with more granular data captured around a simple framework of four data dimensions: competence, perception, engagement and reaction.
We'll be demoing Kineo Analytics at a Bitesize session on May 3 Learning Technologies 2023 10.40am – 10.55am at the Bitesize Learning Zone 2 and will be delving deeper in our seminar on May 4 at 13.15pm – 13.45pm in Theatre 5.
Join this session to explore the benefits of learning content analytics for Learning and Development teams and their business stakeholders.
You'll find out how it can help you:  
• Measure and prove the effectiveness of your digital learning content design 
• Gather the insights you need to make better design decisions in the future 
• Improve engagement, completion rates and longer-term success 
• Justify the investment in elearning design models and approaches, backed by evidence 
• Gather insights to help inform and support business cases for further investment 
You can visit the Kineo stand at the Learning Technologies event, located at stand A70, in-between the Totara Café and Arist.  We look forward to seeing you there!
https://vimeo.com/774762886?embedded=true&source=vimeo_logo&owner=38052410