Tuesday 25 April 2023
A Buyer's Guide to implementing a Learning and Engagement Platform into your organisation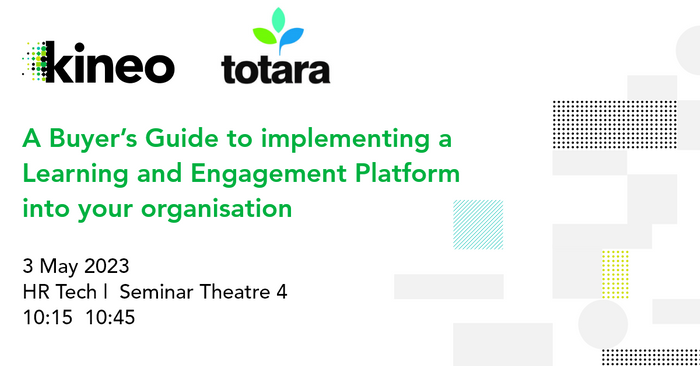 With less than a week to go until Learning Technologies 2023 we're delighted to announce that'll we'll be presenting another seminar showcasing our long-standing partnership with Totara. This insightful seminar will take place at Learning Technologies 2023 Wednesday, 3 May 2023 at 10:15 am for 30 minutes at HR Tech Seminar Theatre 4.
You can also visit the Kineo stand at the Learning Technologies event, located stand A70 and the Totara Café Area at stand CA1. We can't wait to see you there!
Kineo and Totara have been working collaboratively for over 12 years to develop digital learning systems used by world's leading businesses including easyJet, Sony Europe and Bridgestone, to name a few. The Kineo and Totara collaboration allows for greater flexibility with one fully integrated platform and 360 support to your full learning strategy to really power up learning.
In this session, Meredith Henson at Totara and Lewis John at Kineo will explore the differences and synergies between Learning Management Systems (LMS), Learning Experience Platforms (LXP) and Talent Experience Platforms (TXP) as well as examine their benefits and use cases.

You'll learn:
Choosing the right learning solution for your organisation and learners

Possible use cases for your organisation

Practical tips for planning and selection
With over 10 years' experience in elearning, Lewis has a proven track record in delivering successful eLearning platform solutions to clients including Wella, Levi Strauss, Samsung and Oxleas NHS. With a passion for helping organisations achieve their learning goals through innovative solutions, Lewis is known for his expertise in learning solutions, as well as his ability to understand complex learning challenges and develop effective solutions.
With over 20 years' experience in the elearning industry, Meredith offers a wealth of knowledge and expertise across multiple regions, sectors and systems.  With years of hands-on experience across all stages of implementation and best practice use, she happily shares her lessons learned alongside advice and support for those venturing into talent experience.
Going beyond our award-winning technology, our partnership with Totara puts success of learning outcomes forefront. HR and L&D professionals can measure learning outcomes, make smarter decisions and continuously improve in one seamless learning ecosystem.