Thursday 28 April 2022
Digits LMS customer case study: Bensons for Beds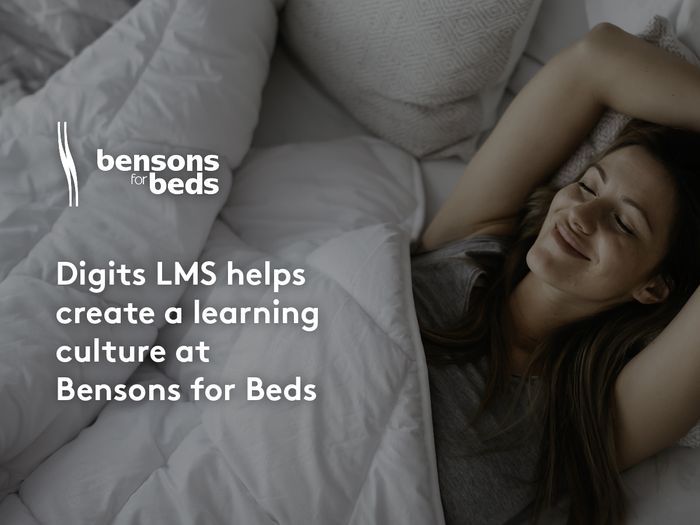 "Digits LMS is really helping us create a learning culture. It's a fantastic learning management system – the best I've used. We launched Digits LMS – Spring, as we call it – in autumn 2021, and started getting buy-in immediately. A large part of our employee population, especially those working in our manufacturing division, had never really used an LMS before, so it's been a big change in mindset for many, despite that though we have seen people embrace it and shoot up the leader boards."
Bensons For Beds, the UK's leading bed specialist, had a basic learning management system (LMS) in place when Michael Mounsey joined as digital learning manager in November 2020. But it was underutilised by employees and didn't offer the right level of functionality for an ambitious, growing business. "I realised quite quickly after joining that our existing solution wasn't right for Bensons anymore, and that I would need to search for a new provider and implement a new LMS," says Mounsey.
Top of the requirements list was a user-friendly LMS that could be accessed anywhere, on a range of devices. "It also needed the flexibility and capability to grow – we needed a system that could develop with us," he adds. "It also needed to accommodate a wide range of content. We didn't want to only be able to drop in SCORM files and create eLearning; we also wanted to have video and audio learning, and record on-the-job training, which is really important to us.
"Using our own people as imagery on the LMS enhances that branded look and helps people understand it's there for them"
"Gamification – being able to create leader boards, and reward learners with points and badges – was also really important," says Mounsey. "Our colleagues have really engaged with Digits LMS since its launch and I've noticed it's even driving some friendly competition between teams who are all striving to be at the top of the leader board".
Badges are being closely linked to key areas of focus for the wider business, says Mounsey. There's a new recruitment badge, for example, which reflects a push to upskill all managers in recruitment and make the hiring process consistent across the company. "People are seeing that a colleague has gained that badge and are jumping on the site to find out how to get it too."
Spring has also been instrumental in the launch of new company values: Be Devoted, Be Driven, and Be Daring. "We launched these values through the LMS, and it's been really well received – we're getting good feedback," says Mounsey. "For example, we pushed out a new education piece on the values, and we had more than 300 people view it in the first three hours. And that rose to more than a third of colleagues in the first 24 hours, which is fantastic if you bear in mind that our business is very busy at this time of year."
"Digits is very different to some of the other platforms I've used. The capability is brilliant"
Crucial to successfully launching any new software is employee buy-in, which often depends on brilliant communication and engagement, and the ability to tailor the solution to your organisation's needs. Bensons ran a teaser campaign ahead of launching – sharing screenshots and first looks at elements such as the reward badges. They also gave early access to the LMS to a number of 'learning leaders', who helped to create interest. "It was quite easy for us to launch because there was a huge requirement for it; people were really excited about the functionality." The system's look and feel was also critical; Bensons used a strong internal colour palette of pink and navy blue, created a bespoke logo, and used photographs of staff in the system. "You only get one chance to make that first impression, so it was important that the homepage looks vibrant and engaging," says Mounsey. "Using our own people as imagery on the LMS enhances that branded look and helps people understand it's there for them."
For Mounsey and the L&D team, Digits LMS is at the heart of a drive to develop a learning culture. "People have quickly realised the system has all the functionality in one place – that they can learn about a number of different things. It's not just coming to work and learning about Benson's and beds; it's about creating a culture of learning that means everyone can reach their potential and help everyone understand want we want the company to be." As well as their own learning content, Bensons For Beds has also chosen to link the LMS to Thrive's library of microlearning content. So far, the team has spotlighted microlearning content on topics ranging from teamwork to Black Lives Matter, bullying at work, and breast cancer awareness. "I've created a mental health hub, for example – I can easily create the page, and drop the content on. It's great."
"I love that, with Spring, managers do their own reporting on what training their people are completed and can have really effective conversations about what they've learned off the back of completing certain topics"
Another key element of Digits LMS's functionality that is paying dividends for the L&D team is the system's rules engine. "This is the fourth LMS I've implemented, and it's my favourite," says Mounsey. "It's very different to some of the other platforms I've used. The capability is brilliant. I love the rules engine – it's a gamechanger. I haven't seen that flexibility in other systems." Being able to automate processes, quickly and simply, is vital for any L&D team. "The automation of the rules engine just takes the pressure off – this is a priority for me, and I haven't seen it elsewhere before. There's a lot of manual intervention with other platforms, whereas, with Digits, you can set a couple of rules – such as notifications related to activities, or badges or points – and they just run in the background. There's so much we can do, and I've only just scratched the surface."
Mounsey is also in the early stages of using Digits LMS's analytics capabilities. "The tools are fantastic. We're looking at trendlines of how many people are logging in, engagement with the system, and which – and how many – activities are being completed," he says. "I'm also going to work with the Digits team to create dashboards that will give managers more ownership over data. That's key for me; I've worked with other learning management systems where I must go in, extract data as Excel files, and send lots of reports to managers because they don't have access to that information. I love that, with Spring, managers do their own reporting on what training their people are completed and can have really effective conversations about what they've learned off the back of completing certain topics."
The friendliness and helpfulness of Digits – which is part of the CIPHR Group – was a key factor in selecting Digits LMS, he adds. "When we were looking for a new system, functionality was of course key – but I also just had a feeling that the people we spoke to really cared about our needs. They listened to what we needed and made sure that it was a two-way conversation. Some of the other providers we spoke to were more focused on cost, whereas, with Digits, it felt like we had more of a connection."
The working relationship has only strengthened during the implementation and launch phase. "I felt we were well-supported during implementation; at every stage there was clear guidance on where we were in the project, and when we could go live. It's been a really good experience," he says.
Already, Digits LMS is helping to raise the profile of the L&D team and create a learning culture within Bensons. "It's made us more visible as a team," says Mounsey. Many of the L&D team joined the company while lockdown restrictions prevented face-to-face training taking place, "so using the platform to push out digital learning has definitely made us more visible and given us more flexibility, until we're able to do classroom training again. Your LMS is the central hub for an L&D team, and absolutely essential."
"The Digits team really cared about our needs. We had more of a connection with Digits than with other providers we spoke to"
Spring's next phase involves launching more functionality across the business. The IT team is soon to pilot the skills analysis tool, for example. "At the moment, they use an Excel file to assess people's capability, and there are no learning recommendations off the back of it," says Mounsey. "What I love about Digits LMS's skills analysis tool is that people can rate themselves, but, off the back of those ratings, it will identify development areas – such as communication or teamwork – and recommend a suitable piece of learning. That's going to be a really big change for us, and help people fill in some real learning gaps."
Also coming in 2022 is the launch of development reviews. "We don't currently have standardised development reviews, so we need those to be aligned. Digits LMS allows us to achieve that by guiding managers through the process, and we'll also offer them training on how to carry out effective development conversations." Bensons also plans to activate Digits LMS's social and community features, enabling people to talk about learning and create learning groups in a dedicated online space.
Ultimately, the sky's the limit. "I don't want our honeymoon phase to end – I want it to carry on," says Mounsey. "There's so much we can do in the system and so much we can do to support our people and keep the learning momentum going."
Digits is exhibiting at Learning Technologies 2022 on stand K40