Thursday 20 April 2023
Thirst Unveils AI-Powered Learning Platform at Learning Technologies 2023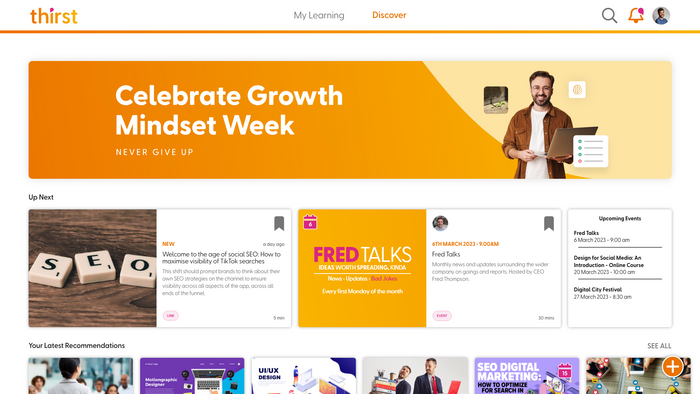 thirst empowers employees with the knowledge, skills, content, and insights they need to put their career growth in the fast lane and boost business outcomes through features like personalised on-demand content, learning campaigns, peer-to-peer knowledge sharing, interactive quizzes and learning journeys.
thirst also enables L&D teams to connect the dots between skills, internal mobility and retention with powerful analytics and deep insights that demonstrate the true ROI of L&D across organisations.
"Skills gaps are costing UK businesses an estimated £6.3 billion per year in lost productivity, extra recruitment costs, and temporary staffing. At thirst, we believe that the future of learning is all about improving internal mobility by upskilling and reskilling employees in a better way. We're changing how organisations approach L&D in times of economic uncertainty by creating a learning platform that will help to close skill gaps faster and boost productivity." said Fred Thompson, CEO at thirst. "We're excited to showcase the power of thirst at Learning Technologies 2023, and show attendees how we're shaking things up in L&D for good by unlocking the power of personalisation and taking learning and skills platforms to new levels of individuality."
Learning Technologies 2023 is an opportunity for L&D professionals to witness firsthand the power of thirst and how it can revolutionise the way organisations approach learning and development.
Attendees can also hear from thirst CEO, Fred Thompson when he hosts two valuable seminar sessions and gives his unique perspective on how technology is changing L&D.
The future of learning: How AI is revolutionising personalised learning
Seminar Theatre 7 | Day 1 | 13:15pm
Expert insights on the latest AI-powered technologies and how they are being integrated into the learning process to enhance individual learning experiences and fast-track employee development.
5 easy steps to revolutionise engagement in your organisation
Bitesize Learning Zone 3 | Day 2 | 12:20pm
Learn the five simple steps any business can take to increase engagement, improve employee retention and enhance internal culture from integrations with existing internal systems to customised applications.
Visit thirst at Stand K45
About thirst
The game-changing learning platform built for a new era of learning. With thirst, organisations can supercharge their learning culture and create immersive and engaging experiences that empower individuals to unlock their full potential and achieve their career goals. To learn more about how thirst is revolutionising L&D visit thirst.io today.
https://youtu.be/nFIYr1JDgV8