What is The Candour Gap and why does your HR team need to be aware of it?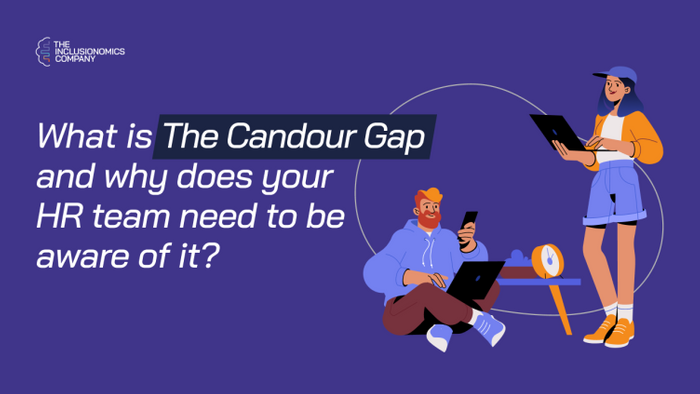 The greater the gap between our gut instincts and our considered words, the greater the mental conflict and stress we can experience. As an HR leader, when you ask someone how they feel, you need the truth, but the fact is, you are only ever told what people consider they can or want to share, meaning that you rarely get to the root of the real problem.
OUR METHODOLOGY
Our unique Inclusion Audit measures how your organisation actually feels - quickly, consistently and remotely. Inclusionomics uses a unique methodology that recognises the communication challenges that HR leaders face. With the power of Neurotech® technology, we are able to bypass conscious bias to reveal the unmoderated truth and throw a spotlight on The Candour Gap within your team.
The Inclusion Audit uses two methods:
• An Implicit Reaction Time (IRT) assessment allowing us to indirectly measure intuitive responses, occurring at a non-conscious level;
• A traditional style survey that gathers explicit responses that are subject to conscious bias.
Revealing The Candour Gap by comparing the two - how people truly feel with what they are actually saying - we can see where sentiments and feelings are aligned and where they are divergent. The Candour Gap can highlight where cognitive dissonance exists within your team - and where potential problems lie:
• The factors that encourage inauthentic behaviour;
• The hidden issues that are not being discussed, yet lie beneath the surface;
• The triggers of stress.
WHAT IS COGNITIVE DISSONANCE
Fact: We rarely vocalise our instinctive, gut reactions to a situation, because we rationalise and consider the outcomes, the impact and the consequences of our words, leading us to moderate the sentiments we share.
Beliefs: When inconsistency between cognitions occurs, it feels uncomfortable because it goes against what we feel is 'right' for us as an individual.
Stress: When we are torn between conflicting ideas or beliefs, our brain is placed under stress as it strives to regain balance and consistency between our thoughts and feelings.
"This awkward, anxious, guilty or embarrassed feeling we experience is cognitive dissonance."
Negative Impact: If people do not feel able to express their true feelings, they are not able to be their authentic, whole self and this can lead to stress and negatively impact performance.
SOLUTION
We measure workplace inclusion.
Our platform uses conscious and nonconscious methods to quantify how people really feel about inclusion in the workplace, and provides the guidance on how to improve it.
TO FIND OUT MORE OR BOOK A DEMO INCLUSIONOMICS.CO.UK/CONTACT-US