Monday 10 April 2023
COBIDU SOLUTIONS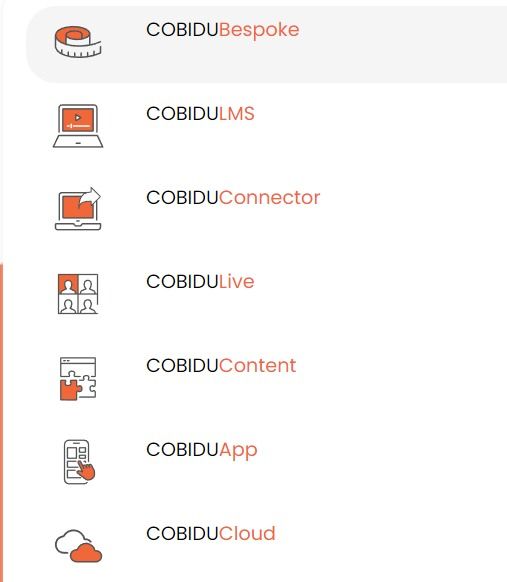 COBIDU Bespoke - We take the content, write a scenario, dub it, create it. COBIDU will listen and design a solution for you and your target audience with the most appropriate training method.
COBIDU LMS - We have mainstreamed the LMS for you so you can manage everything on the one platform.
COBIDU Connector - With SCORM packages, our solutions allow you to manage your contents with your third party systems.
COBIDU Live - Fully integrated with COBIDU LMS, our open source web conferencing solution for online learning that enables real-time audio, video, slides, whiteboard, chat and screen sharing. It also allows attendees to join conferences with webcams and invite guest speakers.
COBIDU Content - We make it wasy to create, share and reuse HTML5 content and applications. COBIDU Content empowers everyone to create rich and interactive content experiences more efficiently.
COBIDU App - Gives access to COBIDU Digital Academy anytime, anywhere whether you are online or offline.
COBIDU Cloud - We provide hosting services for your coporate needs within the scope of our COBIDU Cloud service, LMS, Wordpress, Dupral, Mail etc COBIDU offers an uninterrupted sustainability of our services, taking into account the highest level of security, accessibility and redundancy.