The Cost of Exclusion – It could be costing more than you think.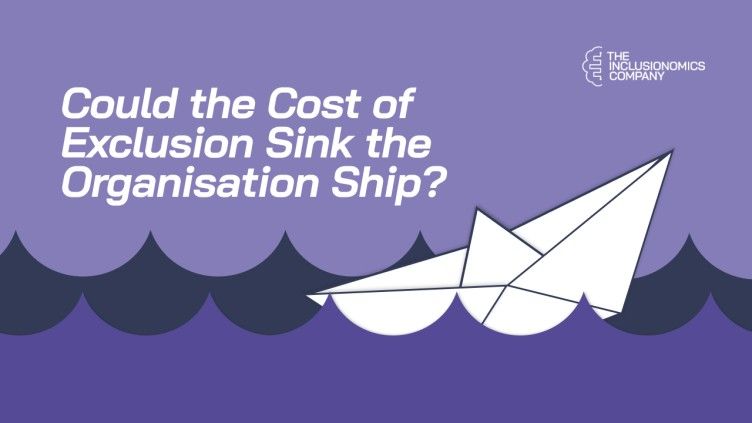 The Numbers
In the research discussed it's found, diverse companies are more likely to report a 59% increase in creativity and openness, and a 39% increase in awareness of consumer needs and interests. It continues, that 35% of an employee's emotional investment in their work and 20% of their desire to stay within their existing organisation is down to how included they feel in their workplace. Consequently, a more inclusive organisation undoubtedly results in having more loyal, hard-working and dedicated employees.
The Boston Consulting Group (BCG) in their study "How Diverse Leadership Teams Boost Innovation" found companies with diverse management teams had a 19% increase in revenue compared to their less diverse counterparts, which represented 45% of total revenue versus just 26%.
More evidence
In the Forbes article 'Diversity Without Inclusion Is Useless' it covers the D&I issues that the US company Under Armor faced with a toxic culture and a non-inclusive environment to female employees, which ultimately led to the departure of two of its key senior executives.
"Diversity is often mistaken for inclusiveness, but the two terms are not synonymous. You can have diversity but not be inclusive, and that is often what organizational leaders fail to realize... Leaders should strive to create an environment where they are able to not only attract diverse employees but are also able to retain them."
Source: Forbes
What Happens If an Organisation Fails to Be inclusive?
This conjures the image of an iceberg: a tip comprising the benefits of inclusion (as outlined above) that organisations rub their hands over. However, lurking below the water line where no one looks or is aware of is the unknown mass of disbenefits, which are known as the costs of exclusion.
The Impact of being excluded
According to the UK's Advisory Conciliation & Arbitration Service (ACAS), workplace exclusion causes:
Loss of morale & poor employee relations (often due to a lack of organisational core values);
A loss of respect for managers & supervisors;
Decreased performance;
Lost productivity;
Regular absence (i.e. employees being always late);
Frequent resignations;
Long-term damage to company reputation (the increasing level of customer complaints).
The impact to businesses of workplace exclusion is huge, and senior leadership teams of many organisations far from grappling with it are not even aware of it.
How Do You Measure Workplace Inclusion?
Given the benefits of inclusion and the huge direct costs of exclusion are known (now), why don't organisations just measure their inclusion, find the problems and rectify them? It would be nice if it were that simple.
Here are things you can focus on:
Psychological Safety
Simply put, if employees do not feel psychologically safe then they won't engage, will naturally pull back from giving their opinion, raising their hand and avoid taking a risk.
Regulatory Winds Are Blowing
Human capital (organisation employees) is seen today as the primary driver of share price and the value of a company. This has become an area of focus for institutional investors, particularly those investing in technology companies.
What now? Takeaways & Plans of Action
What key questions should senior leaders be posing within their organisations relating to inclusion? Here are six that should be considered:
Collection: can and how do we collect inclusion data collection systematically while avoiding inherent conscious bias?
Measurement & Analysis: with data collected, can we establish a reference starting point, quantify our inclusion status and get an 'Inclusion Score' for our entire employee population?
Remedial Action: once we know where we are and face its truth, how do we action the data meaningfully and establish the right initiatives to positively improve our organisation's inclusion (score)?
In-house: do we have the right expertise/experience/resources in-house to perform these tasks?
Peers: how do we stand in relation to our peers? Are we best-in-class, mediocre or a laggard?
Advisory: what external organisations or resources are available that could assist us with this process/objective?
We measure workplace inclusion.
Our platform uses conscious and nonconscious methods to quantify how people really feel about inclusion in the workplace, and provides the guidance on how to improve it.
TO FIND OUT MORE OR BOOK A DEMO INCLUSIONOMICS.CO.UK/CONTACT-US