DIGITAL COACHING SOLUTIONS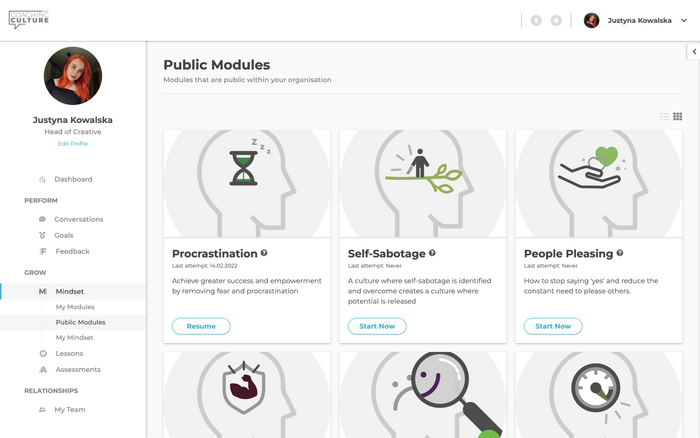 And that's where we come in - take a look at how our digital solutions can ensure coaching conversations become a part of everyday life:

Mindset
Our Mindset modules are the answer to raising self awareness right across your organisation and encouraging long term changes in behaviours.
Library of digital self-coaching modules including growth mindset, emotional intelligence, resilience, wellbeing, etc.
Choice of 24 modules
Tailored coaching exercises based on an initial self-assessment
Designed to change behaviours for the long-term
Lessons
Give everyone in your organisation the ability to have great coaching conversations by developing their skills through discovering powerful practical coaching techniques, tips and exercises - all at their own pace and at the point of need.
Comprehensive suite of e-learning topics, consisting of 25 accessible bite-sized lessons
Covering many topics including: coaching for non-coaches, coaching for delegation, coaching for communication, etc.
Printable workbooks included
Designed to make learning sustainable
Coaching Capability Assessment
Designed to identify current levels of coaching capability to target the most effective development solutions

Whatever your organisation needs, we can help you take the right steps, with the right solutions, to build a coaching culture of your own.