Friday 10 February 2023
Learning Performance Benchmark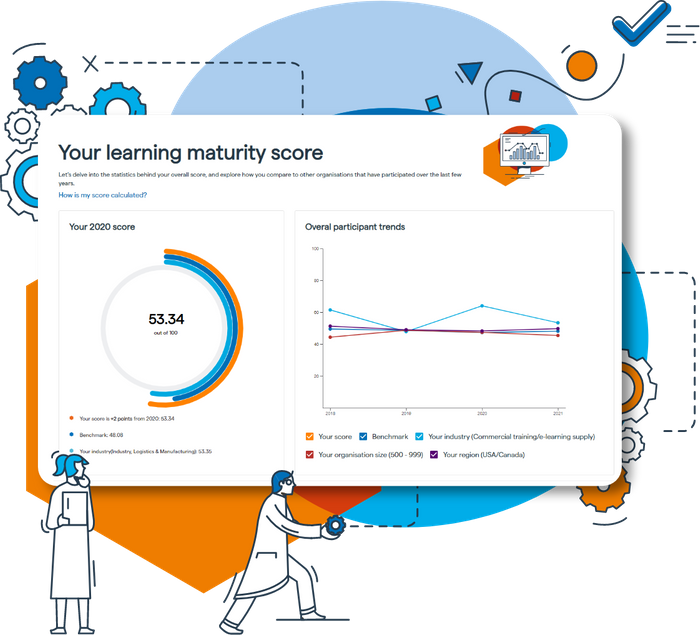 WHAT IS THE LEARNING PERFORMANCE BENCHMARK?
The Learning Performance Benchmark is a series of questions that will help you reflect on your current learning strategy, highlights areas of improvement and shows you how your organization compares to others.
GET STARTED - https://lpbenchmark.mindtools.com/register
---
COMPLETE THE LEARNING PERFORMANCE BENCHMARK IN 3 EASY STEPS:
1. Register an account
We just need a few details to help you to get started. All the information you provide is anonymous and confidential, and it won't cost you anything to create your account.
2. Complete your four part review
Review your company's current L&D offering, including your organization's vision, strategy, technology and challenges.
3. Get your results instantly
After you've completed the review, you'll gain access to a personalized, interactive dashboard.
---
WHAT ARE THE BENEFITS OF BENCHMARKING?
Explore how the Learning Performance Benchmark can bring real change to your organization.
SEE THE BENEFITS - https://mindtoolsbusiness.com/solutions/learning-performance-benchmark/benefits
---
WHAT DOES THE LPB OFFER?
Rich insights - and robust evidence
Drawing on over 18 years' longitudinal sharing within the learning community, the LPB offers actionable tips to improve your learning strategy, adding value and enhancing organizational performance.
Brand-new features
Previously called the Learning Health Check, the updated Learning Performance Benchmark portal displays your results instantly, offers practical insights into nurturing your organization's learning maturity, and filters by industry, region, and size. You can even download your results into a handy PDF to share with the rest of your organization.
Review your learning against your peers'
Clean, easy, and interactive, the Learning Performance Benchmark instantly scores your organization's learning maturity, trending learning technologies, and significant barriers to effective learning, and compares them to those of your competitors.
Community first
Our annual community reports, summarizing the insights from LPB, demonstrate our commitment to the learning industry. Your participation helps organizations empower people to thrive in work and life.
GET STARTED - https://lpbenchmark.mindtools.com/register