Tuesday 12 April 2022
How to get the most out of Learning Technologies 2022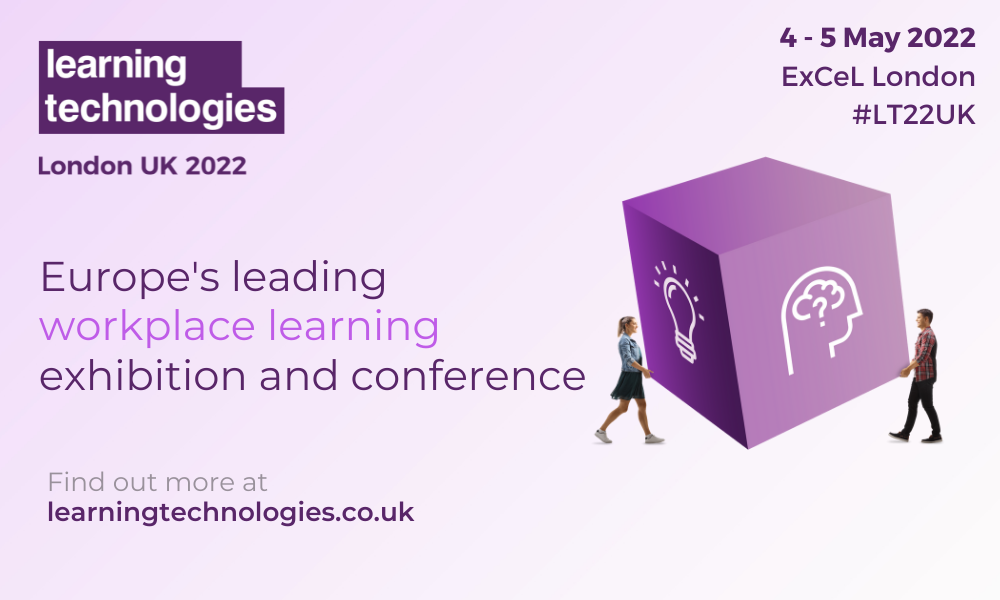 From 4-5 May 2022, Learning Technologies returns with its leading conference and free exhibition at ExCeL London. This event brings the L&D community together as one energised network, collecting and sharing ideas for the future of learning. The Learning Technologies Conference & Exhibition is set to greet 9,000 visitors with over 200 exhibitors and 200 seminars, all carefully selected for those interested in L&D.
The Learning Technologies Conference & Exhibition London is back to host some of the biggest names in L&D. This year will see the leading conference and free exhibition in full swing with the post-pandemic freedom we've all been anticipating. So, how can you get the most out of this L&D showcase? Read on to discover the best way to organise and enjoy your experience at the Learning Technologies Conference & Exhibition London 2022, Europe's leading event in workplace learning.
Plan your visit
The Learning Technologies Conference & Exhibition takes place at ExCeL in East London, its name being an abbreviation of 'Exhibition Centre London'. This versatile events venue is nestled by the Victoria Docks, conveniently a 25-minute walk from London City Airport. ExCeL is near Canning Town and across the river from Greenwich, with the nearest tube stations being Custom House for ExCeL and Prince Regent, both on the DLR. The conference and exhibition will attract 9,000 visitors with 200 exhibitors from 50 countries this year, so expect it to be busy. Luckily nothing is difficult to find – whether you're attending the conference or just the free exhibition, both are found on the same side of ExCeL London. Even if you do get lost, there are lots of people there to help guide you. Read more on ExCeL London to discover the venue and how best to travel there.
The next step in planning your visit is deciding where to stay. If you can't get home easily and are keen to attend both days, or don't want to leave networking drinks early, a hotel is in order. There are plenty of options nearby, notably the Novotel ExCeL and Ibis hotel, but check out Learning Technologies' official collaboration with Event Express for the best options. Both hotels are a few minutes' walk from the main entrance and the restaurants, which will host post-conference drinks and an exclusive dinner for the Thirty Under 30 Programme winners. This means everything you need to have the most enjoyable Learning Technologies experience possible is within walking distance of the main event.
Once the travel and accommodation is sorted, your next step is to decide what to bring with you. The beauty of Learning Technologies 2022 is, while previously hosted in February, the month of May is more forgiving in terms of weather. It's still advised to bring a coat and umbrella just in case, but at least the temperature won't be single digits, and there's a better chance for a sunny couple of days at ExCeL. The dress code is smart-casual, so you're free to go full business formal or have more relaxed attire, while still ready for some professional networking. You're encouraged to bring your mobile, ID and of course your tickets. There's food and drink available to buy at ExCeL, with conference attendees gaining access to the scheduled coffee, lunch and drinks in the Platinum Suite. ExCeL London has plenty of space for networking with other professionals, as well as for taking a break and soaking up the atmosphere.
Download the Learning Technologies app for free
The Learning Technologies Mobile App has been upgraded for 2022. It's available to download for free on the App Store for iPhone and Google Play Store for Android, and is like having the entire Learning Technologies Conference & Exhibition in your pocket. With the app you can really make the most of your event experience; creating your own schedule for the 4th and 5th May. Book seminars and business meetings with exhibitors in advance which will build your 'My Event' in-app section, and easily export these bookings to your own personal calendar. This way, you prepare your schedule in advance, ensuring you don't have to worry about missing anything when you arrive at ExCeL London. It also keeps you up to date during the event too, with set reminders telling you when and where your next session is. The app will also feature a floor plan closer to the event dates, which will be vital for helping you navigate your way around the conference and exhibition.
Now it's time to secure your visit to
Learning Technologies 2022
on 4-5th May. Join us by
booking your conference pass
or
signing up to the free exhibition
on our website, and we look forward to welcoming you at ExCeL London.