Monday 16 January 2023
#LSGwebinar: AI debate and upskilling a global workforce in 2023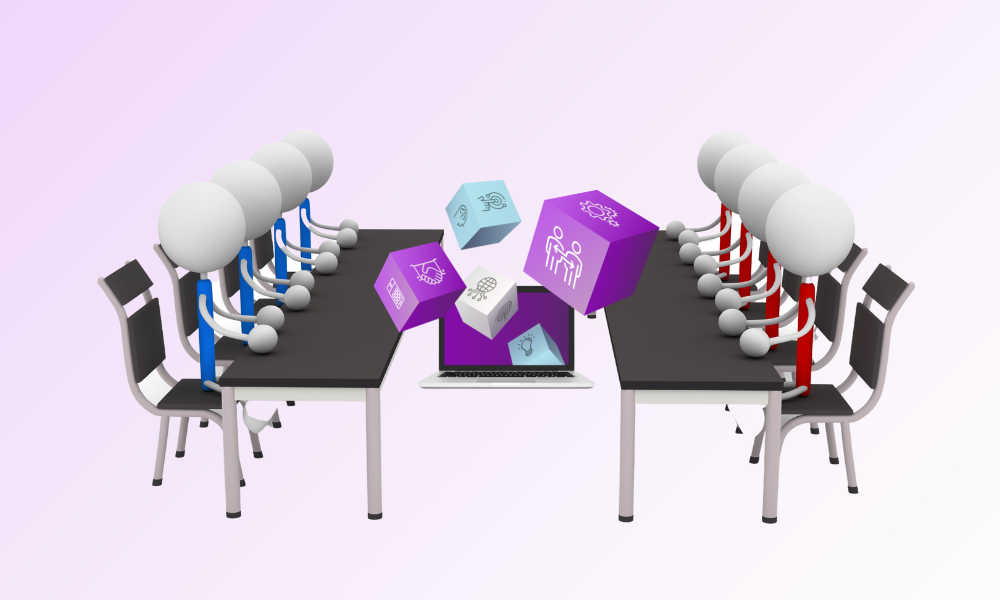 Learning Technologies entered 2023 continuing our anticipated Digital Series. On 12 January, Docebo and Area9 Lyceum delivered engaging sessions, discussing what the new year will bring for the L&D industry among other things.
Docebo is a renowned LMS founded in 2005, providing their favoured product Docebo Learn. Their morning webinar introduced Sara Tindall, Senior Learning Technologist at Nord Anglia, and Laurent Balagué, Docebo's Product Line Manager, as its speakers. Area9 Lyceum featured in the afternoon session, bringing the organisation's CEO Ulrik Juul Christensen for a "fireside chat" with Donald H Taylor, Chair of the Learning Technologies Conference. The Learning Technologies Digital Series will continue this year with two biweekly webinars, bringing you the latest and greatest in L&D.
Sara Tindall and Laurent Balagué: how do you upskill on a global scale?
Sara and Laurent delved deep into the always-popular discussion of upskilling, from L&D to the legal industry. Sara noted that it's not such an easy task in workplace learning, and that 'Being outside a traditional corporate function is to be that critical friend...' She discussed the importance of L&D teams coming together, particualarly working with HR departments to achieve this sense of free dom to be able to voice opnions on things such as upskilling. Sara talked about how it's incredibly important that training is designed well visually eo engage the learner of course, but also it must be clear on the LMS for the learner to map their journey. This helps learners assess better where they are, where they need to go, raising the point that '...talent works best when everyone's pulling in the same direction.'
Laurent shared his own best practices for upskilling, exploring four main points: aligning with the business, having a 80/20 approach, focusing on key indicators and ensuring accountability. Following a strategised path is crucial for some sectors in Laurent's opinion, giving an example that 'compliance is key to upskilling in legal industry', due to the needs of lawyers to maintain required certifications in their profession. Sara and Laurent then used their discussion of L&D's evaluation to pave the way of it becoming a business partner. Sara shared her personal experience coming out the pandemic, using a digital tool called 'Learning Impact' at Docebo to prove a learning programme is working, which actively builds trust with learners.
Ulrik Juul Christensen: is 2023 really the year for AI?
Who doesn't love a fireside chat? And Donald H Taylor and Ulrik Juul Christensen do them well! This LSG webinar went straight into the immediate L&D trends everyone's been talking about this year so far, and what the rest of the year holds. The fact that the resignation rate in the UK is the highest since 1974 was raised in the session, to which Ulrik said that 'You need learning engineering...people who can take skills apart and put them back together again.'
The real debate among the audience begun when the topic of AI and ChatGPT arose. Someone in the audience asked what Ulrik thought of AI and its malicious uses. Ulrik raised a very valid point that while not malicious, AI can be clumsy when it comes to things like racial confusion — for example, he mentioned an instance where an AI confused the face of man with the face of a monkey. An AI could not have meant this in an offensive way because it builds on logic patterns not emotional opinions, but it is a concerning aspect to the technology. It was brought up by Donald H Taylor that AI can appear intelligence but is in fact not, and Ulrik agrees that 'We're at a point where we think if it can talk, it can do all other things like a human. It cannot.'