Friday 19 May 2023
Accessibility in e-learning: a must for L&D teams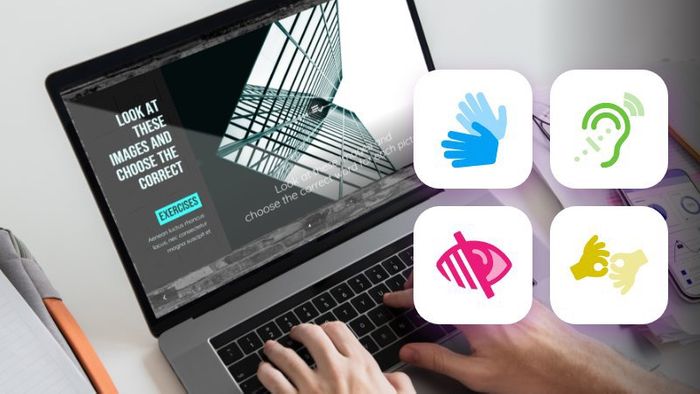 Accessibility in e-learning: a must for L&D teams
According to WHO data, more than one billion people worldwide live with a disability, equivalent to 15% of the world's population. With regard to recruitment in particular, data published by Adecco shows that hiring people with disabilities has grown by 8% in the last year, making it essential to transform workspaces into more accessible and inclusive environments.
Accessibility plays a particularly important role in the field of corporate training. Beyond ensuring equal development opportunities, adopting accessible e-learning solutions favors talent retention, improves the company's brand image and reputation, and its competitiveness in the market. Despite this, only 20% of current online programs are accessible.
As part of isEazy's commitment to providing organizations with an end-to-end e-learning experience for any online training project, the company has launched a new accessible solution to the market to help companies implement inclusive online training for the whole team.
Their authoring tool, isEazy Author, not only facilitates the creation and distribution of accessible e-learning courses but also optimizes costs and production times thanks to automations and innovative functionalities that allow the editor to simplify their tasks. The development of a dual mode allows users to easily create accessible versions of their existing training, and they can access an impressive library of games and interactive resources which are preconfigured and accessible. The new tool also provides editing tips that ensure the end result complies with Web Content Accessibility Guidelines (WCAG).
In addition, thanks to its digital content factory, isEazy Factory, allows companies to outsource the development of their course content, resulting in 100% accessible training, as well as attractive and dynamic resources in record time.
With isEazy Skills, the company also offers businesses a wide range of accessible courses designed to teach power skills and, in doing so, encourage the development of all professionals, regardless of their profile, role, or capabilities.
In this way, isEazy demonstrates its commitment to bet on innovation, with the aim of improving the competitiveness of employees and their companies. This new approach, focused on accessibility, is a step towards establishing a future where all employees have access to equal career development opportunities.