Wednesday 14 June 2023
Why you should collaborate with a learning designer to create a great employee training experience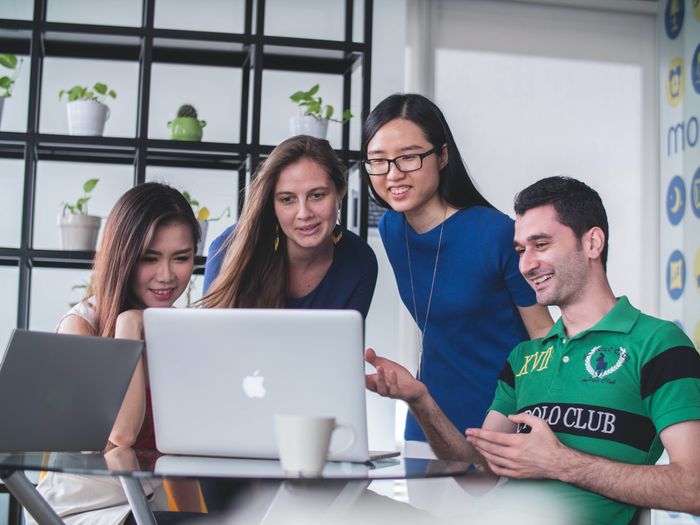 Getting opportunities to learn and grow in the workplace has become the topmost indicator of a great work culture, shows a report by Glint data. This metric suggests that employees in the post-pandemic era take their learning and development seriously, and are likely to be more content with roles that allow them to further upskill themselves.
Therefore, having a well-structured learning system that encourages and nourishes employee growth is essential for your workplace to flourish with talented people. A good learning design not only helps with a seamless employee training process, but can provide your team with an avenue to upskill within or even beyond their initial roles, often at their own pace.
This blog will explore the purpose and importance of learning design in the workplace, and the benefits of collaborating with learning designers for your employee training programmes.
What is learning design
As stated by ScienceDirect, using open-source tools and other eLearning platforms can personalise learning and increase engagement, allowing team members to learn and apply skills in interactive scenarios. Learning design isn't a standalone traditional education discipline irrelevant to delivering courses in workplace settings. It is a critical component of workplace training that ensures the learning material is engaging and meets learners' preferences, and goals, while aligning with an organisation's training objectives.
"Project management, communication, and collaboration are regular aspects of a learning designer's work. In addition, learning designers tend to emphasise analysis and evaluation in the learning design process," said Michelle Moore, Head of Customer Success at Moodle US. She added that learning designers can work in connection to the sales process, or their role in sales-related tasks, such as scoping, developing work samples and attracting new clients.
This educational process enables instructors to apply a pedagogical model to education and use emerging technologies in different workplace settings, in-person or virtual. A good learning design process is more than just writing the curriculum. It considers how individuals learn and which materials and technologies will be most effective. Furthermore, it helps trainers create engaging learning experiences and decide which tools should be designed and delivered to learners.
Learning design professionals use many adult learning models alongside popular instructional design frameworks, such as the ADDIE model or ABC Learning Design method guiding the development of effective and efficient training programmes. They're skilled at recognising the learning requirements and using the data collected during the analysis phase to formulate a training programme blueprint. The developers then produce educational materials and learning exercises according to the design plan. This task may encompass generating written content, creating multimedia resources, and constructing interactive activities.
Additionally, the learning designers can assist trainers in evaluating the training programme's effectiveness to determine if the learning objectives were achieved. This involves measuring learner performance and satisfaction, as well as analysing the impact of the training on organisational performance.
Benefits of working with a learning designer
A learning designer understands the importance of research and trends in education to inform their learning models. They help learners access engaging course material that allows them to progress in their educational journey.
Often called ‌'instructional design', the roles and work in the field depend on contexts, such as the project's work setting and nuances. Still, many learning designers are proficient project managers, capable of independently managing complex learning development and platform implementation projects from the start, defining timelines, communicating with the client, developing content, and more. They can operate without regular supervision, providing well-curated educational materials without taking up your time.
Professional learning designers can help curate content tailor-made for online courses and LMS platforms. They develop a learning plan that outlines the training programme's topics, learning objectives, instructional methods, and assessment strategies. Furthermore, they work closely with subject matter experts, trainers, and other stakeholders to ensure the training programme aligns with the organisation's goals and the learners' needs.
Here are some of the benefits of working with a learning designer:
Project management
Learning designers can help chart a course through your courseware development process. This can help make your timelines and deliverable estimates more accurate and reliable.
Planning for the unplanned
By adding a learning designer to your project, you get the benefit of their experience across multiple projects. They can help you foresee common hurdles and anticipate them within your organisation. Whether it's marketing approval for graphic design or legal considerations for user privacy, learning designers can act as a helpful forecaster for snags that can slow down your project at the last minute.
Increased learning retention
Not surprisingly, your learning designer has studied, designed, revised, and reviewed feedback from dozens of projects. This gives them data-driven insight on not just what looks good, but what drives results in the real world.
Knowledge of settings and features
Your learning designer will likely know more about your LMS than anyone in your organisation. This will not only save time in development, but can help eliminate time-consuming administrative processes down the road. Even something as simple as learning to use the user upload, course upload, or the bulk user actions features can save hours of work over time. Your learning designer will not only know that these are available, but also when to apply them to save you time and effort.
Third party tools and community plugins
Your learning designer will know which tools and community plugins are appropriate for your use case. With over 1000 plugins and dozens of partner organisations that offer powerful companion tools, it can be daunting to know what's right for you. Your learning designer will not only know what's available, but likely already has contacts that can help your project succeed.
Learning design principles in Moodle Workplace
Moodle Workplace is a flexible learning platform you can customise to cater to your employees' development goals. Depending on their role, you can tailor the platform to suit specific teams.
Organisations can create a personalised learning experience that meets the unique needs of their employees. Here are key features that aid good learning design principles:
Custom pages enable you to customise content effectively and tailor it to specific learners. These custom pages can include multimedia elements, interactive quizzes, and other engaging features that make the learning experience more immersive and effective.
Workplace dashboard facilitates simple navigation and displays information specific to the learner. This feature enables organisations to provide a personalised experience for each audience, ensuring everyone can access the information they need.
Dynamic rules allow organisations to create rules that automatically assign learners to specific courses or groups based on their profile information. This feature ensures learners save time and only access the content most relevant to their needs.
Moodle advocates and strives to help you create authentic learning experiences that facilitate the effective transfer of knowledge, best practices in universal design, and accessibility standards to make sure all learners can fully engage in learning experiences.
Instructors and learning designers need to collaborate seamlessly to create a streamlined, engaging online learning experience. The learning designers will work on the research, course structure, and scope, while the trainers will provide a personalised course delivery for your team.
Working with learning designers saves time and money, as they use various tools, techniques, and technologies to create learning experiences tailored to learners' needs and aligned with the organisation's objectives. Bringing a learning designer on board can greatly help your project if you routinely oversee the development of complex training programmes.
Sonya Trivedi
Communications Manager, Moodle