Wednesday 14 June 2023
The Death Of The LMS: 3 Nails In Its Coffin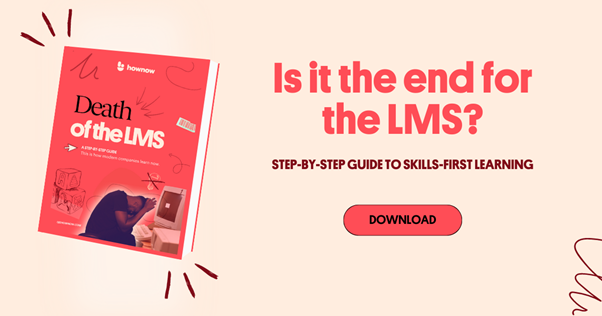 Nobody using your learning software or course library? Not getting board-level buy-in for L&D? People running for the hills whenever you approach them about learning? Sound familiar?
It's tough being a modern-day L&D leader, especially in an era of economic uncertainty, disillusioned employees, and a rapidly-changing skills landscape. Budgets are low, pressure to retain and develop staff is high, and employees are more disconnected than ever.
There are two big problems behind all this pain. Firstly, the approaches that put content before skills and people. Secondly, the outdated tools that prevent L&D teams from taking an engaging, skills-first approach.
LMS, we're talking about you! Disconnected from the tools where people work, unable to truly personalise or collaborate on learning, and incapable of providing a central place for development - the traditional LMS just ain't cutting it anymore.
3-6% is the average course completion rate.
75% of employees are dissatisfied with their L&D function.
88% of employees reported not applying what they learned at work.
People, teams need a new approach and better technology to drive impact. This Death of the LMS step-by-step guide gives you both.
It's out with the old tools, in with the new approach, and ultimately, this means impact and engagement through learning. Goodbye LMS. It's time for something built around how we learn now.
The current skills shortage: what the statistics say
For the first time ever, despite an economic downturn, the demand for talent remains high – with the US, Europe, and Canada seeing their lowest unemployment rate in nearly 50 years. So, what's the issue? Well, despite AI dominating your social and news feeds, it's not that robots are taking all the jobs. It's the fact that there aren't enough skilled humans to fill them.
Businesses are currently operating like a revolving door for skilled workers.
Unable to hire the skills they need, lacking confidence in their ability to upskill the staff they've kept, and unable to retain top talent once they find it due to a lack of growth opportunities. It's a vicious cycle. This is bad for business.
78% of companies are losing talent due to a lack of growth opportunities.
40% of people are planning to leave their current employer.
6 open roles for every person who is qualified to do the job.
It's not just a case of hiring talent to plug the gaps - we can't buy or borrow the skills we need forever, it's not sustainable. So, we have to build them.
The companies who help their people build the skills that matter in the shortest time win the talent war. Which means they're able to seize opportunities and grow at speed. So, how do we attract top talent, retain our existing workforce and learn at speed? It's time for a new approach, don't you think?
Three nails in the LMS coffin
1. Scattered resources = scattered results
Think about the last time you learned something that had a significant impact on your career. Where did that come from? A book, podcast, colleague, YouTube video? We can almost guarantee that it wasn't your LMS.
So why do we spend so much time, money, and effort on LMSs? Especially when it's evident that people are learning with or without L&D's involvement.
The learning ecosystem
Learning is scattered across an ecosystem of skills, experts and content from inside and outside your organisation. It's no longer about a single platform, and someone needs to bring this all together like the conductor of an orchestra.
L&D teams need a tool that helps to create an ecosystem and central place for learning. Otherwise, we end up with the classic scenario of people coming to your LMS in a moment of need, searching for information, and finding nothing that helps them solve the challenge, never to return again.
Not only is this bad for performance, it damages the reputation of L&D across the business. And this happens far more frequently than you think. According to Beezy, a digital workplace provider, more than half of employees (56%) have been unable to find digital documents while working remotely.
2. Disconnected from the flow of work = not there in the moments that matter
In the wise words of Filip Lam, People Growth and L&D Expert: "You shouldn't be forcing people to come to your channel, learning should exist in the channels people already operate in.
"Where people are reading, chatting, and working, that's where you need to be, to reach them. If a company uses Slack, for example, you can use that as the communication tool but also almost like a learning tool… and they don't need to change to another environment."
The current problem is that we have two competing issues:
49% of employees want to learn at their point of need (LinkedIn Learning).
And "...amid the race to stay connected across tools, workers switch between 10 apps 25 times per day—fragmenting communication and reducing efficiency." Asana's Anatomy of Work Index 2021.
We need a centralised place for learning
One where people know they can search for and find learning opportunities when they're most motivated to solve problems (in the flow of work!).
We call these 'moments that matter': situations where connecting someone to the right content shapes their performance. This will, in turn, create a positive feedback loop around learning and drive engagement.
For example, if you're on a customer call and they ask a question you don't know the answer to, being able to access relevant knowledge on that call is a moment that matters because it influences how you respond. Because the LMS takes you out of the workflow to learn, it prevents this from happening.
3. L&D teams can't measure skills = struggle to prove business impact
If you can't measure skills, how do you know where the skills gaps are (and if you've closed them)? You don't. And this is one of the biggest issues facing L&D. If you've got no way of measuring skills, you're not going to prioritise that in your L&D strategy or learning experiences.
And in a classic case of the tail wagging the dog, this often causes companies to prioritise the consumption of content over the development of skills. So, how can you build a skills-first L&D approach that engages learners and drives impact? Start by downloading Death of the LMS: A step-by-step guide to skills-first L&D.
Nelson Sivalingam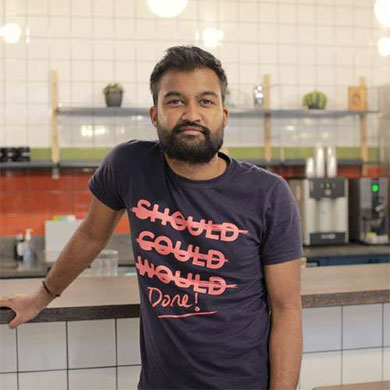 CEO and Author of Learning at Speed,
HowNow