Tuesday 3 May 2022
Digits' guide to visiting Learning Technologies 2022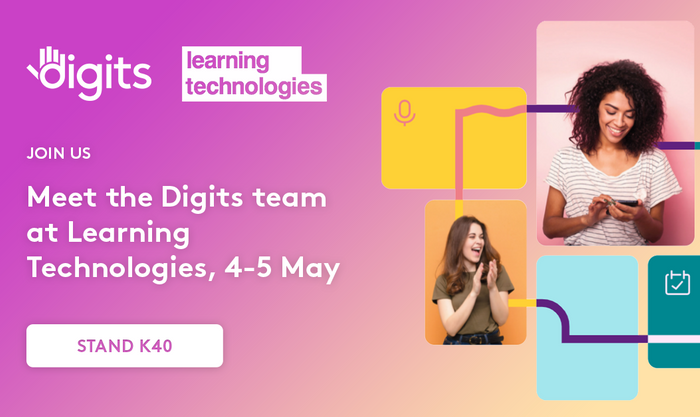 Getting the maximum benefit from a show, such as Learning Technologies, takes planning. Here's Digits' helpful checklist to make sure you get the most from your visit — from how to talk to vendors to planning your learning sessions.
Prioritise suppliers
Research and prioritise those exhibitors that you want to visit. Who do you 'need to see' and who would you 'like to see'?
Use time wisely
Divide your time between those exhibitors you want to see, but make sure there is time in your schedule in case meetings run over, or if you want to catch some of the free learning sessions on offer.
Any questions?
Write a list of questions to ask and what information you require from exhibitors. Find out beforehand which of their products and services are of specific interest and relevance to you. You can then build a list of relevant questions to ask each of them.
Define your goals
Think about what you want to achieve, and what's expected of you by your manager and/or colleagues? Make sure you're clear about the goals of your visit.
Collaborate
If you're attending the event with colleagues, meet with them to discuss how best to use your time and work together. By collaborating, you can cover much more of the show and collate your findings afterwards.
Book meetings with suppliers
Make appointments in advance with the learning management system vendors you want to meet with. Most will be happy to book an appointment for you in advance.
Want to meet with the Digits team at Learning Technologies 2022? Pre-book your appointment here: https://www.digits.co.uk/book-a-meeting
Meeting with exhibitors
Don't be afraid to ask searching and sometimes tricky questions of exhibitors. Most should be happy to answer any questions, regardless of their complexity. If they cannot respond themselves, they should be able take your question to someone who can help. Ask them for reading material to take home and digest later, too. If you're on a tight schedule, explain how long you have and arrange a follow-up meeting afterwards if you want more information. Don't feel pressured to make any decisions on the day that you're not comfortable with.
Write down your findings
With so much to see over the two days, there's a chance you'll suffer from information overload. Making notes during meetings and talks will help jog your memory afterwards, and ensure that anything you've learned will be reinforced. If you're meeting with several suppliers in search of the right product or service, create a structured report of who you spoke with, and how their products and services compare with each other. This information will help you make an informed decision.
What to take
Remember to take business cards with you to avoid filling out forms at each stand, and to share your details with new contacts.
What to wear
Pack comfortable shoes and clothing to wear. You'll be surprised the distance you'll cover during the day. Travel as light as you can – you'll be picking up freebies and literature from the exhibition, anyway – and check bulky items, such as suitcases and coats, into the cloakroom. Beware, though, that there are often queues at the cloakroom at the end of the day, so build in time to collect your belongings if you have a train to catch.
Book accommodation and travel
Book your hotel and travel tickets as early as possible to get the best deal. Booking early gives you the best choice of hotels and the best prices.
Parking
If you're driving, remember to pre-book parking. Although there are plenty of car parks near to the venue, they'll fill up extremely quickly with visitors to the show.
Pre-book your visitor ticket
Register in advance for your free exhibition pass to save time on arrival.
Plan your time
With more than 200 free talks across the two days, there's lots to see at the free exhibition. Digits' talk, Are we trained for work? Employee and practitioner perspectives on L&D, is in theatre nine on 5 May at 2pm. If there are multiple talks you want to see, split them between your colleagues and compare notes over coffee later on.
Digits is exhibiting at Learning Technologies 2022 on stand K40
Andrea Matkin, LMS sales manager at Digits, says: "I'm really looking forward to Learning Technologies this year. It's going to be a great opportunity to have some meaningful chats (in person!) with L&D professionals from a range of organisations and feel the pulse of the industry and where it's heading."
Toby Gilchrist, head of implementation services – LMS at Digits, says: "It will be great to also see what the industry is working on and all the latest digital learning trends at Learning Technologies. I'm looking forward to attending, and reconnecting with our current customers face to face again. I'm excited to demo our latest version of the LMS to potential new customers and explore how we could support delivering their digital learning strategy."
Charlotte Bull, customer success manager at Digits, says: "Learning Technologies provides a brilliant opportunity for us to connect, network, learn, and further develop relationships with our customers. It enables the team to discover more about the current trends and better our knowledge of the ever-evolving L&D industry – to help us deliver the best learning solutions and customer experience."
Bradley Burgoyne, head of talent at Digits, says: "I'm really looking forward to speaking with customers and peers at this year's Learning Technologies show. It's a great opportunity to expand your thinking as you learn more about the latest innovations in learning and development!"