Tuesday 2 May 2023
Eurekos launches new LMS tools at Learning Technologies 2023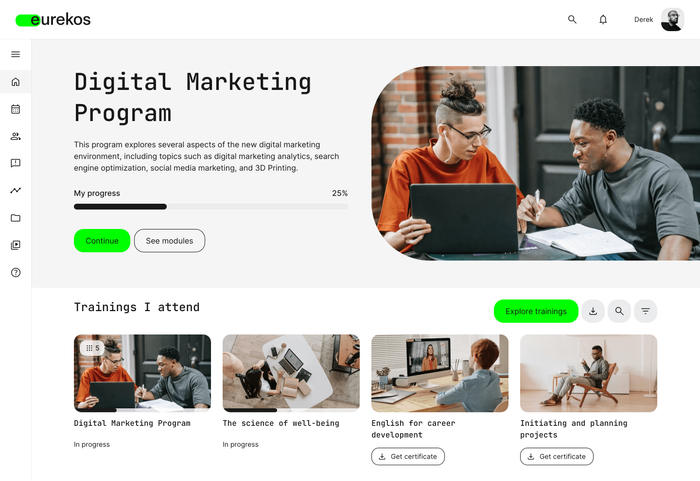 London, England — Eurekos Systems ApS today announced the launch of version 11 of the Eurekos LMS, which is positioned squarely in the Customer Education LMS space.
For many years, learning management systems have neglected what is arguably the most important part of corporate learning: Customer education. Most of the recent innovations in learning technology have been focused on employee training, not training for external audiences.
But now that's changing. Eurekos has long been a standard bearer of customer education, and with the release of version 11 of the Eurekos LMS, we poured our efforts and ingenuity into tools that focus on training customers, partners, and other external learners.
With this new release, organizations have the tools they need to turn customers and partners into true advocates and make them smarter about their products.
Here are some key new features and enhancements that will positively impact business metrics:
Learning Journeys

The key to successful customer training is making it easy for customers to follow a guided path that leads to product mastery. This includes before the sale, during onboarding, and everything that comes after: The entire learning journey. Eurekos' new Learning Journey tool is infinitely flexible and will design any type of learning journey with eLearning, ILT, onsite training, videos, documents, quizzes, certification, and anything you can imagine.

Advanced Certification
When customers and partners get certified, they move into super-user status and become advocates of your product. Eurekos' advanced certification includes everything companies need for a professional certification program, including automation tools that make it simple to administer what is usually very complex.

Unlimited Branded Portals
Your customers and partners don't want to be lumped in with everyone else who's training on your products. They want a unique content catalog, e-commerce, security, integrations, and even branding. Eurekos now offers unlimited branded portals, which is unique to the industry, so you can increase learner engagement at no additional cost.

Rapid Onboarding
Customers who don't master your product will eventually go away. The biggest lever you have to reduce customer churn is a fast onboarding experience that gets them actively using your products. With Eurekos 11, we upgraded our already advanced onboarding features with more automation that has advanced rules for assigning training and learning journeys in a more intricate set of combinations.

Extended Enterprise Organizational Structures
Training customers, partners, and each audience in your extended enterprise can be extremely complicated. Eurekos 11 gives you the tools you need to tame this complexity with unlimited hierarchy structures that include locations, roles, clients, departments, and a significant number of other enhancements.
It used to be a big challenge for customers to master your products, but with version 11 of the Eurekos LMS, it's not only doable, it's easy!
To get a demo of Eurekos 11, go to: https://eurekos.com/get-a-demo/
https://youtu.be/8vKQ8Yo8OQY