The Leaning Effect Launch a Set of Articles and Podcast Episodes to Help Simplify Your Learning Technology Purchase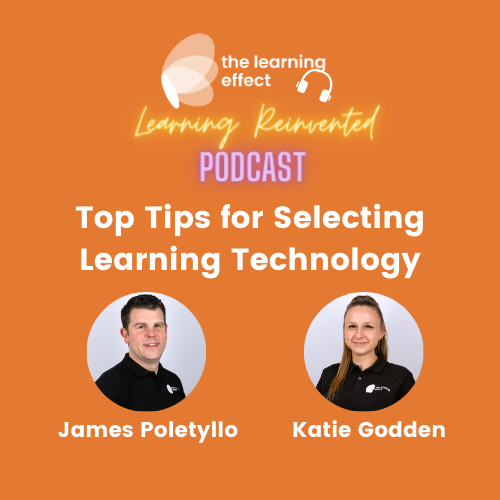 The Learning Effect is delighted to announce it has produced a series of articles and podcast episodes to coincide with their inaugural exhibition at the Learning Technologies Exhibition and Conference (#LT23UK) held at the Excel Centre in London. This exhibition will take place on the 3rd and 4th of May 2023.
The Learning Effect pride itself on delivering industry leading results for its clients through their uniquely commercial and results focussed approach to learning strategy. To assist those attending The Learning Technologies exhibition the team have created a series of articles and podcast episodes sharing their expertise, insider tips and practical steps for organisations to make the most of their learning technology.
These bitesize pieces of content are an invaluable resource for those navigating the learning tech landscape whether attending the Learning Technologies Exhibition or not. With the market and technology changing more quickly than ever these tools and guidance help ensure that decisions are based on sound business judgements rather than being swayed by the bright lights and promise of new technological advances.
More in depth guidance and support can be provided by Katie Godden and James Poletyllo, The Learning Effect Team who are looking forward to engage with learning professionals and industry peers on Stand LP19. Visitors will be able to tap to their extensive experience which they use with their client to craft innovative solutions for creating and delivering purposeful, engaging, and effective learning experiences.
"We know how overwhelming the learning tech market can be," says James Poletyllo, co-founder of The Learning Effect. "We are happy to help in any way we can, with the advent of generative AI the market will only get more confusing and we are here to provide a helping hand to ensure clients themselves times, heartache and money whilst delivering what their businesses really need"
With over 9,000 attendees from 50 countries and an impressive line-up of more than 200 seminars and 200 exhibitors, 'Learning Technologies' is a top-tier event for any company involved in learning and development. Don't miss the chance to learn from the best and the brightest in the industry.
The Learning Effect team looks forward to welcoming attendees and sharing their passion for creating amazing learning experiences.
The comprehensive set of support articles can be found @ The Learning Effect - Blog with podcast episodes available on YouTube and at The Learning Reinvented Podcast which can be found wherever you choose to consume your podcasts.
For more information about The Learning Effect and their services, please visit www.thelearningeffect.co.uk.
Contact:
The Learning Effect
Katie Godden
Phone: +44 (0)7534 263595
James Poletyllo
Phone: +44 (0)7920 284086
Email: info@thelearningeffect.co.uk