Monday 24 April 2023
LEARNING POOL AND MIND TOOLS ANNOUNCE PARTNERSHIP TO EXPLORE THE POTENTIAL OF GENERATIVE AI FOR WORKFORCE DEVELOPMENT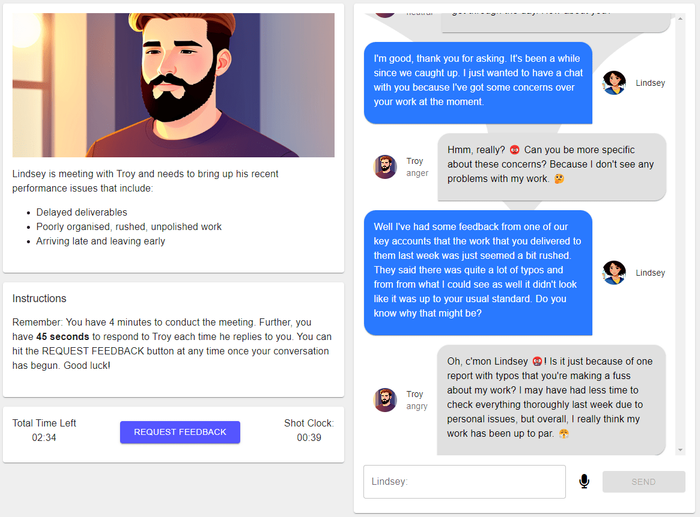 London, United Kingdom - Learning Pool, a leading e-learning solutions provider, and Mind Tools, a world-renowned authority in leadership and management development, today announced a partnership to explore the potential of generative AI tools for the benefits of learning and workforce development. The companies are conducting a series of experiments aimed at understanding the business value of tools like ChatGPT in the context of learning, with a particular focus on leadership and management skills.
The partnership will kick off with the release of Converse, an AI-powered tool designed to help users practice difficult conversations. As the user has the conversation they get real- time feedback from the AI 'employee' and have the opportunity to redirect the conversation. Every iteration of the conversation is unique, with the AI enabling an unbounded set of responses. Once the conversation is complete, users get additional AI-generated feedback based on how their conversation compares to the requirements of the feedback frameworks as validated by the experts at Mind Tools. Converse features real-time conversation, including the full use of two-way audio and text-based conversation options making it an incredibly immersive and real to life experience.
John Yates, CEO of Mind Tools, added, "Transparency is critical when it comes to generative AI tools, particularly in areas like learning where the stakes are high. We need to be able to trust the answers we're getting from these tools and understand how they're arriving at those answers. Through our partnership with Learning Pool, we're committed to developing that trust and transparency."
"Experimentation is key to understanding the potential of generative AI tools like ChatGPT and the models that underpin it for learning and workforce development," said Ben Betts, CEO of Learning Pool. "We need to explore how these tools can help us deliver more engaging and effective learning experiences, and we need to do so in a way that builds trust and transparency with our customers. Our partnership with Mind Tools is a significant step towards achieving those goals."
Interested parties can sign up for a 2-week prototype testing window during the Learning Technologies conference, May 3rd - 4th, in London, at either the Learning Pool or the Mind Tools stand. Alternatively, testers can sign up here to get on the waitlist and take part in testing remotely.
This press release was generated by ChatGPT. It really is quite clever.
About Learning Pool:
Learning Pool creates learning experiences that deliver extraordinary outcomes for workplaces investing in the performance and skills of their people. Supporting thousands of businesses investing in learning experiences for their global learners, Learning Pool's innovative AI learning platforms and skills solutions, combine integrated technology and adaptive content to produce actionable insight on every learner's performance.
Its world-class customer experience makes sure clients can harness its unique ability to produce a highly skilled workforce, new competitive advantages, and an organization prepared for whatever the future might bring.
Wherever you find ambitious workplaces investing in their people, you'll find Learning Pool.
About Mind Tools for Business:
Mind Tools for Business brings accessible, on-demand performance tools and resources focused on leadership, management and personal effectiveness that empower colleagues to perform in today's progressive workplaces. Helping them build happy and successful careers and to contribute positively to the success of organizations, the world over. At Mind Tools for Business, empowering people to thrive at work has been our passion for 25 years.