Tuesday 26 April 2022
Learning Technologies 2022 – Omniplex Learning to put upskilling and re-skilling at the forefront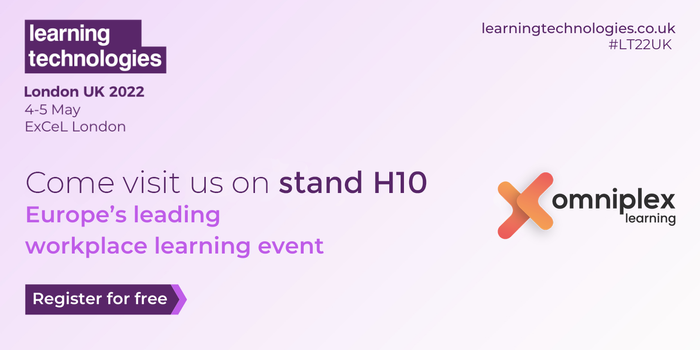 Ever-changing tools and technology, the shift to hybrid working habits and lowering employee retention rates are three of the biggest challenges faced by businesses today. And Omniplex Learning is on a mission to highlight the role L&D can have in tackling them - through connected learning tools and showing the benefits of investing in employee development and upskilling.
18% of workers left their role in 2021, and the World Economic Forum believes that 54% of all employees will need re-skilling and upskilling by the end of 2022, placing greater emphasis on businesses to choose the right tools and deliver engaging learning programmes.
Nuz Saeed, Head of Marketing at Omniplex Learning, said: "We understand the challenges that businesses are facing and we're really excited to be showcasing our solutions at Learning Technologies. This is going to be our biggest ever showcase at the event and we can't wait to display the tools and services that businesses need to achieve their L&D goals."
Omniplex Learning will be offering a wide range of sessions and activities at the event, including a host of bite-sized talks, two conference speakers and an origami-themed digital adoption challenge.
Digital adoption will also be the topic of one of Omniplex Learning's two conference presentations, while the other will focus on accessibility.
Leena Randhawa, Head of Training, will be presenting eLearning accessibility: Improving learning experiences for all, whilst Joe Birri, Product Experience Manager, and Nicholas Holmes, Business Lead for Omniplex Guide, will present Digital Adoption: What why and now.
It's more important than ever for eLearning to cater for all learners, whilst digital adoption is an emerging technology and a tool that can aid businesses in taking on new technology and onboarding new employees faster.
"A digital adoption solution like Omniplex Guide can be a real difference-maker for businesses right now," said Nicholas Holmes, Business Lead at Omniplex Learning, "it gives learning managers the tools they need to provide invaluable support to new starters, especially those who are working remotely."
You can find out more about Omniplex Learning's LT 2022 schedule here.
Learning Technologies will be taking place 4-5 May at the ExCeL in London and you can find Omniplex Learning at stand H10 on both days of the event.