PREPLY'S ENTERPRISE BUSINESS SEES 230% YOY GROWTH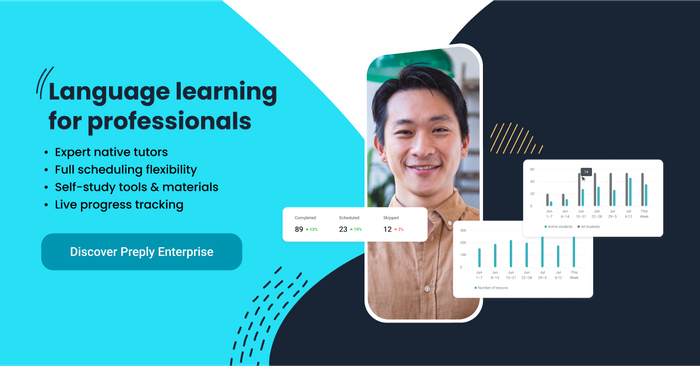 London — May 4, 2020 — Preply, the online learning platform with more than 40,000 tutors teaching over 50 languages, has seen 230% YOY growth for Preply Enterprise, the company's B2B language learning solution for international companies and teams. Preply Enterprise customers include TikTok, Cornershop by Uber, Zendesk and Eventbrite, amongst others, who offer their employees corporate language courses to improve their business language skills.
"We're incredibly excited about Preply Enterprise's growth over the past year," said Nicole Wolfe, VP of Enterprise Sales at Preply, who joined the company in October 2021 to scale the new business division. "Global leaders are increasingly seeing the value in having a multilingual workforce and the benefits of providing complimentary and continuous education. Even with the most dedicated and talented of employees, language barriers can lead to friction in cross-border interactions, lost sales and a host of other issues. With Preply Enterprise, we help our customers factor language and cultural skills more deliberately into the hiring, assessment and promotion of talent, which ultimately allows employees to function more effectively to achieve key strategic priorities."
The Preply Enterprise team works closely with in-house HR, Benefits and Learning & Development teams to offer employees free 1:1 tutoring on Preply's platform. According to Preply's research, there are five benefits of language learning for employees: better working memory; increased intellectual capabilities; improved health; better decision-making skills; and enhanced attention span. For businesses, the many benefits of offering employee language tutoring includes increased engagement, retention and productivity, as well as helping staff engage with new international markets.
Nicole Wolfe, along with Mary Glowacka, Preply's Centre of People Excellence Lead, will host an in-depth fireside chat entitled, "What's Your Language Strategy?" at the Learning Technologies Conference on May 4. Together, they will discuss what companies need to consider when infusing language learning into core talent practices.
About Preply
The online learning platform Preply brings thousands of learners and private teachers together digitally. The platform is based on 40,000 verified private teachers in over 50 languages and other subjects and an intelligent algorithm that matches learners with the most suitable teacher. Teachers then create individual lesson plans to fit each learner's budget, schedule and skill level. In this way, students from 150 countries have taken over two million lessons from teachers from 110 countries. Preply was founded in Ukraine in 2013 by Kirill Bigai, Dmytro Voloshyn and Serge Lukyanov. The company has since raised more than $51 million in investments and has more than 430 employees of over 53 nationalities across Spain, the U.S. and beyond. All images and logos can be found here.