Saturday 29 April 2023
Real Projects Release New Course Library At Learning Technologies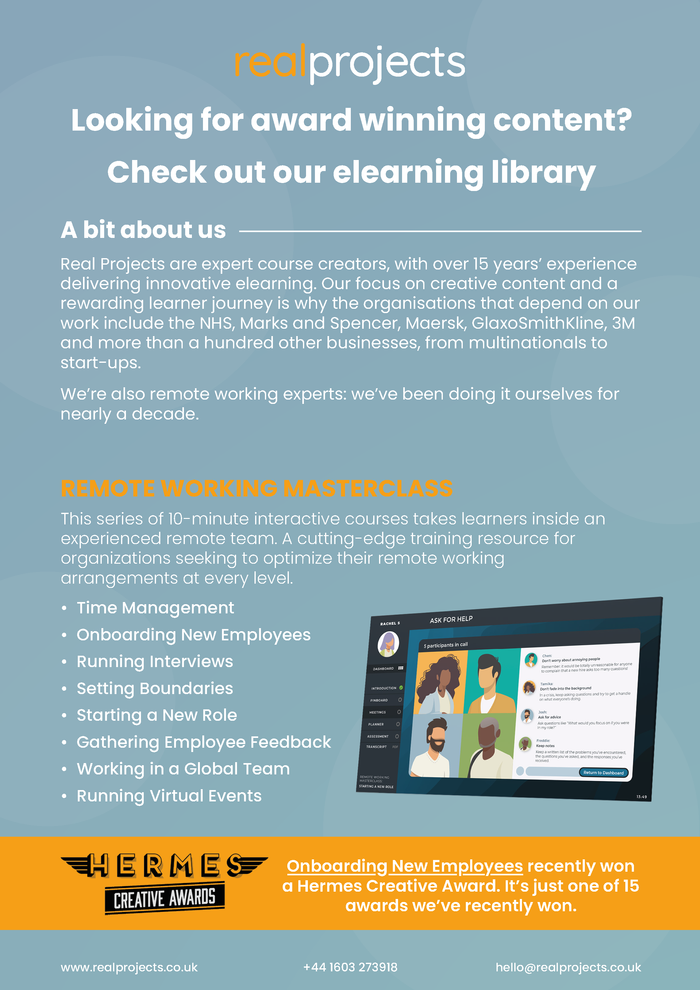 Real Projects Release New Course Library At Learning Technologies
Award winning course developers Real Projects launch their new course library at the Learning Technologies exhibition and conference in London Excel on May 3rd-4th.
Norwich-based Real Projects has produced a stable of award-winning business courses over the past year, covering everything from information security to remote working. Now it's preparing to roll it out to reach a far wider audience.
With over 175 courses covering a range of subjects – from cybersecurity to remote working and other key business topics to digital transformation, business travel and de-escalation.
Over 60 of the courses are also available in Spanish, translated by the in-house translation team.
"We've been delivering excellent custom work but we still wanted to have our own course library. It is fantastic to now share these courses with our customers," says founder Scott Hewitt.
The award winning firm have also scooped a number of awards for courses in the library including Hermes Creative Platinum Awards for its online courses. Part of the Remote Working Masterclass series, the Onboarding course received the top Platinum accolade and How to Wash Your Hands received an Honourable Mention.
Having triumphed in the Hermes Creative Awards, Real Projects are sharing the success – with the team and with customers. "This is that extra validation from someone external, someone impartial, that the work we do really is recognised," Scott Hewitt says.
Real Projects will be sharing their new library at Stand LP03 at Learning Technologies 2023. You can set up a demo and visit the course. The course library is available with a no fuss contract and unlimited users. Visit www.realprojects.co.uk to find out more