Tuesday 2 May 2023
See Ciphr and sister-brand Digits at Learning Technologies (stand F65) and HR Technologies (stand GG20A)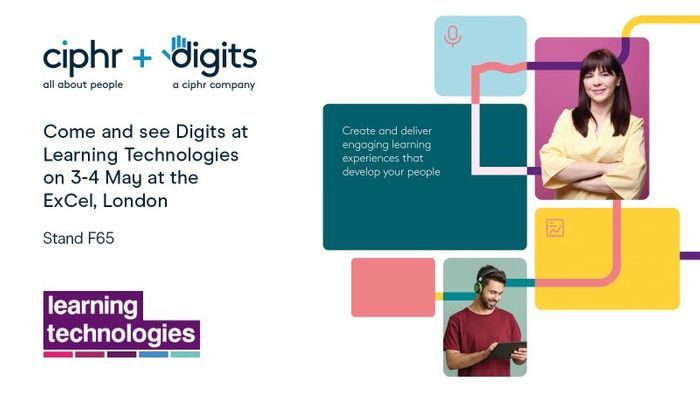 Bradley Burgoyne, director of talent at Digits, part of the Ciphr Group, is presenting a free seminar at 12.30pm in Learning Technologies' Theatre 4 on Thursday 4 May.
Based on Digits' 2022 white paper – 'Mind the (skills) gap', Burgoyne will examine how closer collaboration between HR and L&D teams, underpinned by technology, can help drive an organisation's skills-development strategy.
His talk will cover:
The trends affecting learning and development strategies
Benefits of closer strategic collaboration between HR and L&D teams
How to create a learning strategy that addresses skills gaps
Technology's role in synchronising HR and L&D skills strategies
Visit Digits on stand F65 for more information.
---
Ciphr – a leading UK-based provider of integrated HR, payroll, learning and recruitment solutions – is also hosting two free seminar sessions at HR Technologies this year.
'Signs you've outgrown your HR system (and what to do next)', featuring Amanda Barnden, payroll sales manager, and Shirley Bousfield, learning specialist, will outline the five telltale signs that it's time to upgrade your HR tech, and the benefits of taking decisive action to elevate your HCM software. The session starts at 10.15am on Wednesday 3 May in seminar theatre 2.
The following day (Thursday 4 May), also in seminar theatre 2 at 10.15am, Bradley Burgoyne, director of talent, will be discussing Ciphr's investment in its new customer training platform, Ciphr Academy. His session, 'Introducing Ciphr Academy: HR systems training from Ciphr that'll take our customers from supporting cast to top-of-the-class', will showcase Ciphr's new customer training platform, which is built on Ciphr LMS – providing insight into the level of implementation and ongoing support you can expect as a Ciphr customer.
---
To book a meeting with Ciphr or Digits for either day, at either event, simply book a meeting or demo (using the link below).
Find Ciphr on stand GG20A at HR Technologies where we'll be showcasing our award-winning integrated HR solutions, and our sister brand Digits on stand F65 at Learning Technologies for all things LMS/LXP.
We're looking forward to seeing you at the show.