Thursday 27 April 2023
Totara Takes Main Sponsor Slot at Learning Technologies and HR Tech UK, Showcasing Latest Talent Development Innovations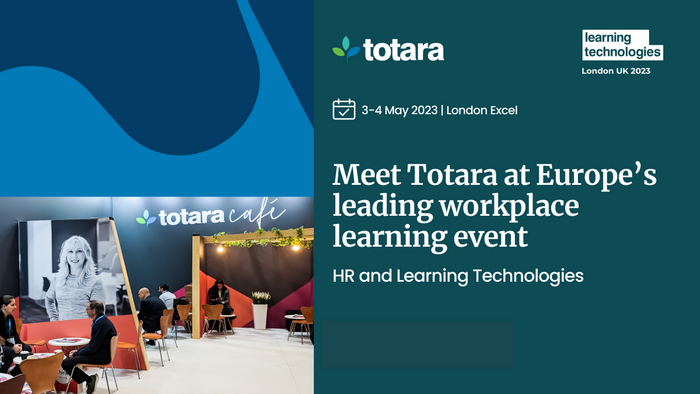 Totara will showcase their approach to providing the world's most adaptive learning tech solutions, bringing together a fully flexible software platform with deep expertise and support. Totara's combination of LMS, LXP, and performance management capabilities helps organisations meet their current and future challenges with confidence, enabling a growth and maturity process delivering higher and higher return over time.
Attendees are invited to visit them at stand (A75) or relax at the Totara Café (CA1) to meet the team, enjoy a hot drink, learn more about their solutions, and discuss the latest trends and developments in digital learning and HR technology.
Totara also pleased to announce that eight of their Partners will be exhibiting at the event alongside them.

The Partners are:
Accipio – LO5
BuildEmpire – K45
Cortexa – M60
Chambury Learning – A40
Kineo – A70
Learning Nexus – CC67
Titus Learning – N68
Think Learning – J10
Specialists from each Partner will be on hand to answer any questions and provide expert advice on how to get the most out of your Totara solutions and learning and development programs.
Totara customers at the show include Circle Health Group, Met Office and The Parliamentary and Health Service Ombudsman. These organisations will share their experiences of using Totara solutions to transform their learning and development programs and improve their business outcomes.
"We're thrilled to have such a strong presence at Learning Technologies and HR Tech UK this year," said Mark Ash, CEO of Totara. "As the rate of change in the global environment keeps accelerating, Totara remains laser focused on connecting learning tech solutions to the tangible results that businesses and organisations need. This is about giving people the right tools for difficult times. It's why we're helping bring our whole ecosystem to the event – come meet us, have a chat, and let's get on with understanding the challenges and opportunities you're facing."
The Learning Technologies and HR Tech seminar programmes are available online for those who want to plan their visit in advance – make sure to check out the 9 Totara speaker sessions across the two days, including Managing Director Lars Hyland's session on aligning learning experiences with meaningful business goals.
About Totara
Totara enables learning technology solutions that connect upskilling and performance management to clear organisational outcomes. Multinational corporations, government entities, and mid-market companies choose Totara for their ongoing talent development needs, building on the company's pioneering expertise and deep, flexible technology platform. With over 20 million users in 140 countries, and customers ranging from Amazon and Pepsico to Samsung and Deloitte, Totara is the solution of choice for empowering people to do their best work.