Tuesday 2 May 2023
Upside Learning Solutions to Exhibit at Learning Technologies London UK 2023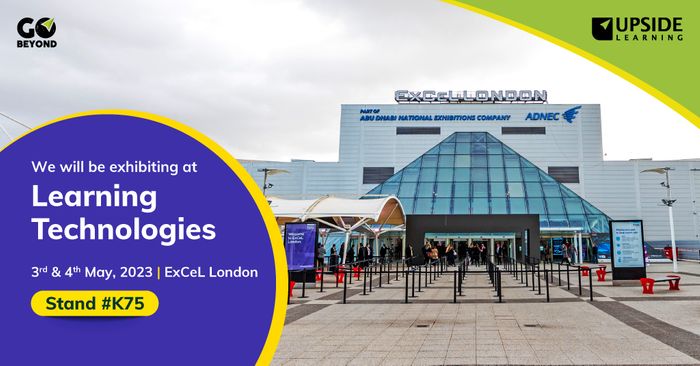 Upside Learning Solutions, a leading provider of eLearning solutions, will be exhibiting at Learning Technologies, the leading international exhibition and conference for Learning & Development professionals, taking place on May 3-4, 2023, at ExCeL London.
Upside Learning Solutions is excited to showcase its offerings in eLearning solutions, including custom eLearning development, mobile learning solutions, game-based learning, virtual and augmented reality-based training, microlearning, and more.
"We are thrilled to be part of Learning Technologies London, which is a fantastic platform for us to connect with L&D professionals in Europe and showcase our eLearning solutions. With our deep understanding of learning science, we have helped many global organizations deliver evidence-based learning programs that achieve their learning goals and improve overall performance. Our recent recognition as a Solid Performer on the 2023 Fosway 9-Grid™ for Digital Learning is also a testament to the same. Learning Technologies will give us a chance to reach out to more L&D leaders and talk about delivering learning experiences that don't just look good, but achieve retention and transfer." said Amit Garg, Founder, and CEO of Upside Learning Solutions.
Learning Technologies is Europe's leading showcase of organizational learning and the technology used to support learning at work. With over 9,000 attendees from 50 different countries this year, 200 unmissable seminars, and 200 international exhibitors, it continues to grow in importance, value, and attendance year after year.
Upside Learning Solutions will be exhibiting at stand K75, where attendees can learn more about the company's eLearning solutions and how they can improve their organization's learning and development initiatives.
About Upside Learning
Since 2004, Upside Learning has consistently delivered best-in-class custom learning solutions to organizations worldwide. The focal point for us is to help L&D leaders deliver deeper learning experiences that improve retention and transfer to achieve desired outcomes. With experience in developing Custom Learning, Mobile Learning, Microlearning, Gamification, ILT and VILT, and AR/VR/MR-based solutions amongst others, Upside Learning strives to add value to every learning solution it creates.
Upside Learning aims to go beyond the ordinary and predictable with its mantra of 'Go Beyond'. As part of the 'Go Beyond' initiative, Upside Learning nudges its internal teams, clients, and the entire L&D community to treat every learning initiative as an enabler of performance. The 'L&D Go Beyond Podcast' is a significant part of this initiative, which features workplace learning leaders from across the globe sharing their insights and experiences.
Over the years, Upside Learning has won more than 100 awards and accolades (including the likes of Brandon Hall Group and Deloitte amongst other noteworthy names).
Learn more about Upside Learning at www.upsidelearning.com.