Wednesday 26 April 2023
Vodafone triples its productivity by creating e-learning courses with isEazy's authoring tool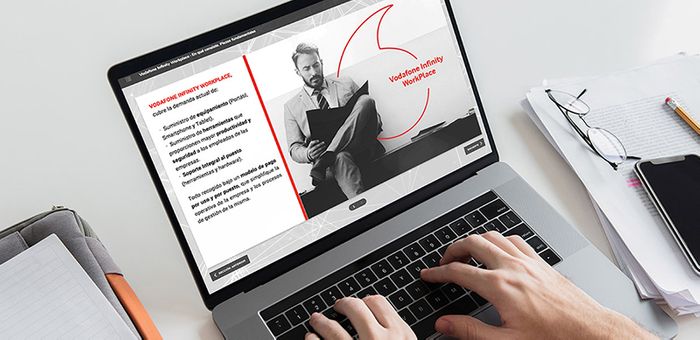 Vodafone triples its productivity by creating e-learning courses with isEazy's authoring tool 
As one of the world leaders in the field of telecommunications, Vodafone connects more than 600 million people every day. It was therefore essential for their team to have an e-learning content authoring tool to create and share their knowledge on a large scale. They trusted on isEazy Author as a top-performing software to create e-learning courses in an agile and simple way in-house.
It was quite a challenge. Vodafone needed a tool that would respond to the continuous training needs of more than 4,000 employees. "We needed an agile and versatile tool that would allow us to learn quickly as a content factory, and to involve other people in the organization who were not familiar with e-learning content development," says Carmen López Fdez. de Córdoba, Learning Contents Factory Team Leader at Vodafone. 
Although they were already using other course creation tools, isEazy Author has allowed them to significantly increase their autonomy and efficiency. Trough this to its slide-based layout, its simple and user-friendly interface, the team has been able to greatly optimize their e-learning course production time. "Thanks to its exercises and games, we can create more visual and interactive courses. Also, the ability to access a wide variety of pre-designed resources means that we can create visually appealing content with hardly any effort," says Carmen. 
Now, Vodafone creates its own e-learning content for any use or training need in just minutes. More than 400 courses were created in 2020 with learning pills related to new products, and systems content, as well as content collections on corporate culture, customer service, and incident management.
"We apply the most advanced technology to simplify the creative processes of the country's leading companies. We're very proud of helping Vodafone achieve its goals so successfully at isEazy. It's our goal to keep living up to their expectations as we expand our processes and operations," says José Luis de Federico, Founder & CEO of isEazy.
About isEazy
IsEazy is a leading technology company specializing in e-learning solutions for training, communication, and corporate knowledge processes. isEazy offers companies an end-to-end e-learning experience, with all the necessary tools to tackle any online training project. With over 20 years of experience and over 10 million users, the organization has successfully completed more than 100,000 projects in 90 countries for more than 1,000 clients thanks to a professional team distributed in its offices in Spain, Mexico, Colombia, and Peru.
isEazy provides seven e-learning tools of its own development: isEazy Author, a software for creating e-learning courses; isEazy Factory, a digital factory for creating training content; isEazy Skills, a technological solution for developing soft and digital skills; isEazy LMS, a state-of-the-art e-learning platform; isEazy Engage, a training app for frontline workers; isEazy ESG, an app designed to raise awareness, train, and mobilize the company around its sustainable development goals (SDGs).
Linkedin https://www.linkedin.com/company/iseazy
Twitter https://twitter.com/isEazy
Youtube https://www.youtube.com/channel/UC271S5yN9OLql7k_e4U6NDQ
Press contact:
Cristina Sánchez: csanchez@iseazy.com
Telf: +34 690 74 72 74