Tuesday 18 October 2022
#LSGwebinar: the Metaverse and more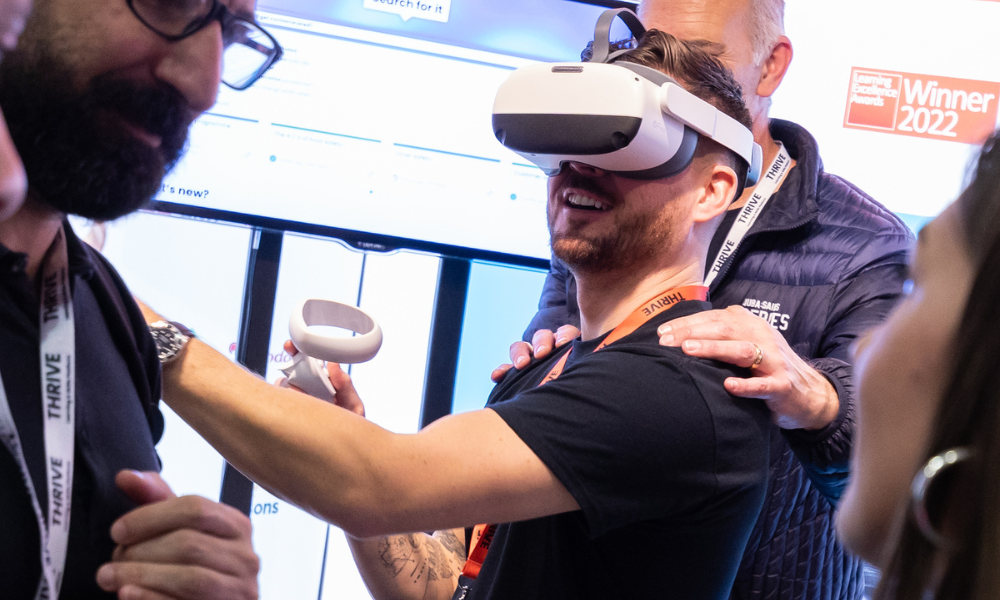 On 6 October, the Learning Technologies Digital Series continued for 2022. Mehdi Daoudi and Janet Donaldson delivered an insightful webinar in the morning, packed with the latest innovations in Augmented Reality, the Metaverse, as well as critical explorations of these technological advances.
Mehdi Daoudi is the Chief Revenue Officer at ARuVR, a leading Extended Reality (XR) platform, and Janet Donaldson is the Learning & Development Director at leading provider of digital learning, Mintra. Their session 'Virtual Reality in learning is happening now! Who, Why and How' sparked an enthused conversation in the audience, so much so there were too many questions to handle! We had a chance to catch up with Mehdi and Janet, who answered all the burning questions you had. Read on to continue the conversation of ARuVR's innovative session.
The monthly Learning Technologies webinars, powered by the Learning and Skills Group, are hosted by Donald H Taylor, Chair of the Learning Technologies Conference. This digital series invites people to learn and discuss the top trends in Learning & Development, with hour-long sessions delivered by the most prestigious speakers in the L&D industry. Check out our Digital Hub to keep up to date with all the digital content from Learning Technologies, from our free webinars to hot topic articles.
How do we define engagement?
Engagement in XR training is defined as how employees interact with learning, completion rates, time spent in the learning environment and how employees put to practise the skills and knowledge they have acquired.
Regarding improving engagement by 95% – short term but also long term? Are there any studies on that?
Both short and long term if XR training is used as part of a blended approach: classroom, digital and immersive mediums.
This is the latest VR report on the effectiveness of VR in Learning from PwC: PwC VR report
How will this technology be perceived now Europe is saving on electricity?
ARuVR solution doesn't rely solely on using headsets to access and consume immersive content, learners are able to use web browsers and mobile/tablets' apps to access the VR Training. Also, the headsets we use and recommend are not very power hungry like their gaming counterparts.
Do you see any useful cases of VR for learning business skills/ business acumen? And related to those cognitive skills, such as problem solving or decision making in a business situation?
Absolutely. The report below from PwC covers a number of use cases in soft skills. Problem solving and decision making are very popular use cases in Virtual Reality as the technology allows the user to learn by doing and practice until they master the skill without the fear of failure or embarrassment. The technology also allows the learner to go through different pathways and scenarios depending on how they interact with the scenarios and the decision they make.
Can the courses be multilingual? How easy is this to localise?
Yes, content can be created in multiple languages.
Do you have a demo / training site for non-VR people to start learning how to make content?
We don't. However, we offer personalised and customised demo based on your industry and use cases as well as a cost-effective pilot programme of 6 months to start with.
Do you have a demo video of how to work with the program and what it can do?
Yes we do, please watch this authoring system overview video released last year Platform Demo. We have since released a number of updated version of the platform therefore please email me info@aruvr.com to book in a demo for the latest version of the platform
Here's also a recent showreel for a programme with our client Coca-Cola: Coca-Cola Showreel
The Royal Navy found the hard way that immersive training on operating and maintaining equipment needed more subsequent training in the real world than expected. Learners performed poorly in a noisy, moving, space-constrained environment and thus needed more supervised experience of 'reality' before being safe and effective. Emphasises the point that XR on its own may not be the solution.
I agree that XR on its own is not the answer to all the issues around skills and knowledge acquisition. We firmly believe in blended 3.0; classroom, digital and immersive content for a full learning experience to ensure a safe, measurable and impactful training.
The customisation options look good - what sort of investment is involved in building the environments?
It is in a range from £10,000 to £20,000. This budget will give you access to the platform and to its multimillion VR & AR free assets, unlimited VR training and experiences you can create, unlimited on-demand users, VR camera equipment, and full training/empowerment by our team of XR experts.
When we're talking about VR, is there a difference between setting the learning in a 3D environment versus using VR to design simulated practice?
The platform allows you to create both scenarios described above. Easiest way to explain is to provide a comprehensive demo/showcase. Please reach me on mehdi@aruvr.com