Tuesday 5 April 2022
Top reasons to attend the Learning Technologies Conference & Exhibition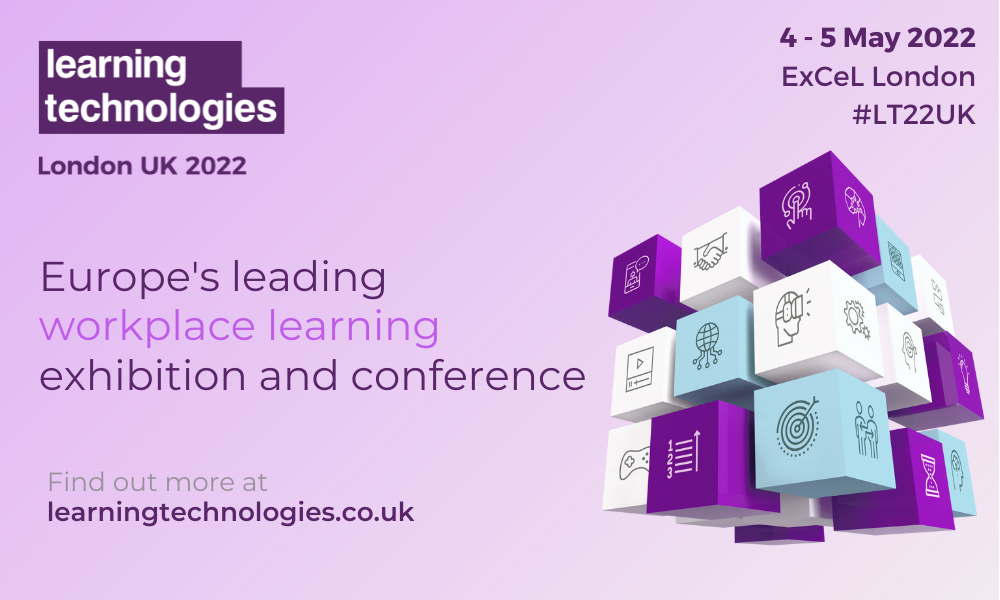 On 4-5 May this year, Learning Technologies will return with its annual conference and exhibition to ExCeL London. Following the Covid-19 pandemic restrictions, we are back with more determination than ever to give the attendees a great experience. Learning Technologies UK will greet an expected 9,000 visitors with over 200 exhibitors and more than 200 free seminars, all carefully selected for the L&D community.
The Learning Technologies Conference & Exhibition started at Olympia Kensington. Over the years, it's grown in importance and attendance, becoming Europe's leading workplace learning event, host to some of the biggest names in L&D. In 2019, the event moved to ExCeL London to host a bigger event. This year will see the first Learning Technologies Conference & Exhibition completely indulged in post-pandemic freedom. Despite the Covid-19 effect, the event continued its pattern of growth and now welcomes more people than ever before to its leading showcase. So, why attend? Here are the top reasons you should go to the Learning Technologies Conference & Exhibition this May.
Discover the latest in learning at the conference
The Learning Technologies Conference 2022 has an impressive line-up of keynote speakers, with over 30 sessions across two days. Expect to hear from the Chair of the event Donald H Taylor, who will officially introduce the event on both days. Donald ran the successful LT Digital Days, analysing the results of his annual Global Sentiment Survey and is engaging with the L&D community leading up to the May event. Women in the workplace is a vital topic in the modern age and will be taken charge of by Sharon Claffey Kaliouby in her 'Women in Learning' session on 4 May at 12:40. Sharon will focus on creating support for women in ethnic minorities and looking at women in leadership roles, all in the name of workplace learning. Martin Peart and Sue Ritchie-Campbell will explore the wonders of Artificial Intelligence (AI) this day at 13:55, focusing on how it's creating a personal learning experience with real-world examples.
On 5 May at 15:50, Julie Drybrough and Kenny Barron will be exploring upskilling and reskilling, discussing the skills crucial in L&D's future. Stefaan van Hooydonk will be running a discussion on curiosity in learning, a topic that is forever growing in the L&D community, at 11:15 on 5 May. At 15:50, Sukhvinder Pabial will discuss the all-important learning engagement topic. Workplace engagement is vital yet can be difficult to achieve at the best of times, let alone post-pandemic. These give just a taste of the great speakers you can expect at the 2022 edition of the Learning Technologies Conference. All sessions are around 70 minutes, providing you plenty of time to immerse yourself into the topics and the subsequent discussions driven by Q&A.
Immerse yourself in the interactive exhibition
The Learning Technologies free exhibition is something you don't want to miss this year. For 2022, Learning Technologies hosts an extensive list of over 200 exhibitors, including Cornerstone, Goodhabitz, Moodle and many more. The show will also have an array of learning technology products, falling under categories such as gaming simulations, learning strategies and collaborative learning – to mention a few. All the exhibitors at Learning Technologies influence the L&D industry and community and will showcase practical case studies of their latest innovations and products at the exhibition in May.
Learning Technologies has an expansive exhibition seminar programme for 2022. Multiple exhibitors are running free presentations on the all-important issue of hybrid work post-pandemic, including but not limited to; Lumina Learning, Qstream, Bridge and X2O Media. Don't miss Dan Hammond from Squadify and Mark Ferguson from LIW presenting the latest case studies of companies using new learning approaches to thrive post-pandemic. Another highly anticipated part of the exhibition is the interactive Bitesize Learning Zones. These areas provide interactive seminars featuring insights from Microsoft, Netflix, Co-op and Channel 4.
Network with L&D professionals
One of the biggest reasons people are eager to attend events in person is networking. Networking is never the same online; in-person events build more memorable connections, a distinctive element of professional relationships. The Learning Technologies London Conference & Exhibition will facilitate networking expertly aided by coffee, lunch or drinks. You can explore the stands, meet and greet experts in the learning industry and get back to professional socialising. This helps you and your organisation further your connections, portfolio and general workplace well-being. As a society, we spend a considerable amount of time at work, which makes socialising an important factor as it affects a significant section of our life overall.
Another social aspect of the Learning Technologies Conference & Exhibition is the rapport between speakers and audiences. Speakers take in the ambience of a conference hall or learning zone much better than in a virtual room, meaning their talk is tailored better to you as a listener. This makes the session more engaging for the audience, leading to success for the speaker and a more informative experience for the listeners. Ultimately, with stronger in-person rapport, everybody wins. Both the conference and free exhibition provide endless choices for interactive sessions, seminars and workshops dedicated to L&D.
Be part of Learning Technologies' future
Following the Covid-19 pandemic, the events industry is eager to not get back to what it did before – but to do it bigger and better. Learning Technologies kicked off 2022 with the LT Digital Days, with the upcoming May event, follow-up forum and awards gala evening to look forward to. We anticipate a great turnout for all these events and the webinars that coincide in-between, so there is a lot for you to be excited about too. By attending the Learning Technologies Conference & Exhibition, you're able to start your journey into L&D's future. Each year, you'll discover new organisations, products and innovations – all presented in the most inventive ways to discover them.
If you want to start planning your excursion into the learning tech industry, book your conference pass to gain access to Europe's leading workplace learning conference. Discover our exclusive premium pass that includes additional features to enhance your Learning Technologies experience – with eight interactive online meetings and two in-depth collaborative sessions. Alternatively, sign up for the free exhibition, which will feature an extensive exhibitor list discussing a wide variety of prevalent topics in digital learning development.