Monday 30 May 2022
Learning Technologies 2022: a wrap-up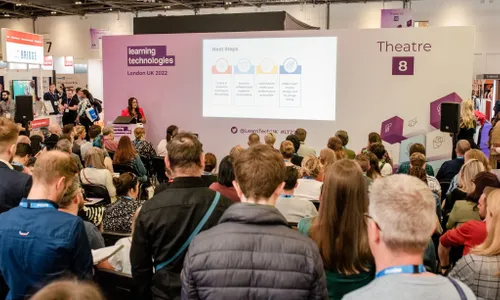 On 4-5 May this year, Europe's leading workplace learning showcase returned to ExCeL London. Following a digital edition in 2021, the Learning Technologies Conference & Exhibition was back with thousands of visitors, more than 200 leading suppliers and over 200 free seminars. Learning Technologies 2022 brought the L&D community back together for a fresh look at digital learning post-pandemic, with the immediate outcome obvious – the L&D industry is alive and thriving.
Learning Technologies is exceptionally grateful to all the visitors, speakers, exhibitors and everyone that participated to make this successful event possible. If you want to relive the event – or sadly missed out on and want to know what you missed – read on for the highlights of Learning Technologies 2022.
A cast of illustrious speakers
The highlight of the event was the speakers. Over 200 free seminars and over 30 exclusive conference sessions, the speakers displayed a wide range of talent and content. The Learning Technologies Conference was introduced by Donald H Taylor, conference chair. Matthew Syed, best-selling author and Sunday Times Columnist, delivered a powerful opening address on 'Creating a high performance culture in a complex, rapidly-changing world'. This all kicked off the first day, opening the doors to the conference theatres, ready to host an inspiring line-up of sessions.
It was time to fuel up with coffee and networking before the first conference sessions started. Julie Wedgwood, digital learning lead, went straight in with a powerful session on Talent Development. The speakers Ron Stock, Director of People Development, and Industry Learning Lead, Steve McNally, shared their insights into designing an onboarding experience that's business-focused. Ron presented an original model to evaluate people's current onboarding process, and Steve delivered inspiring words to drive people to make a change, reminding people that when 'We've got the capacity to learn, we've got the capacity to do'.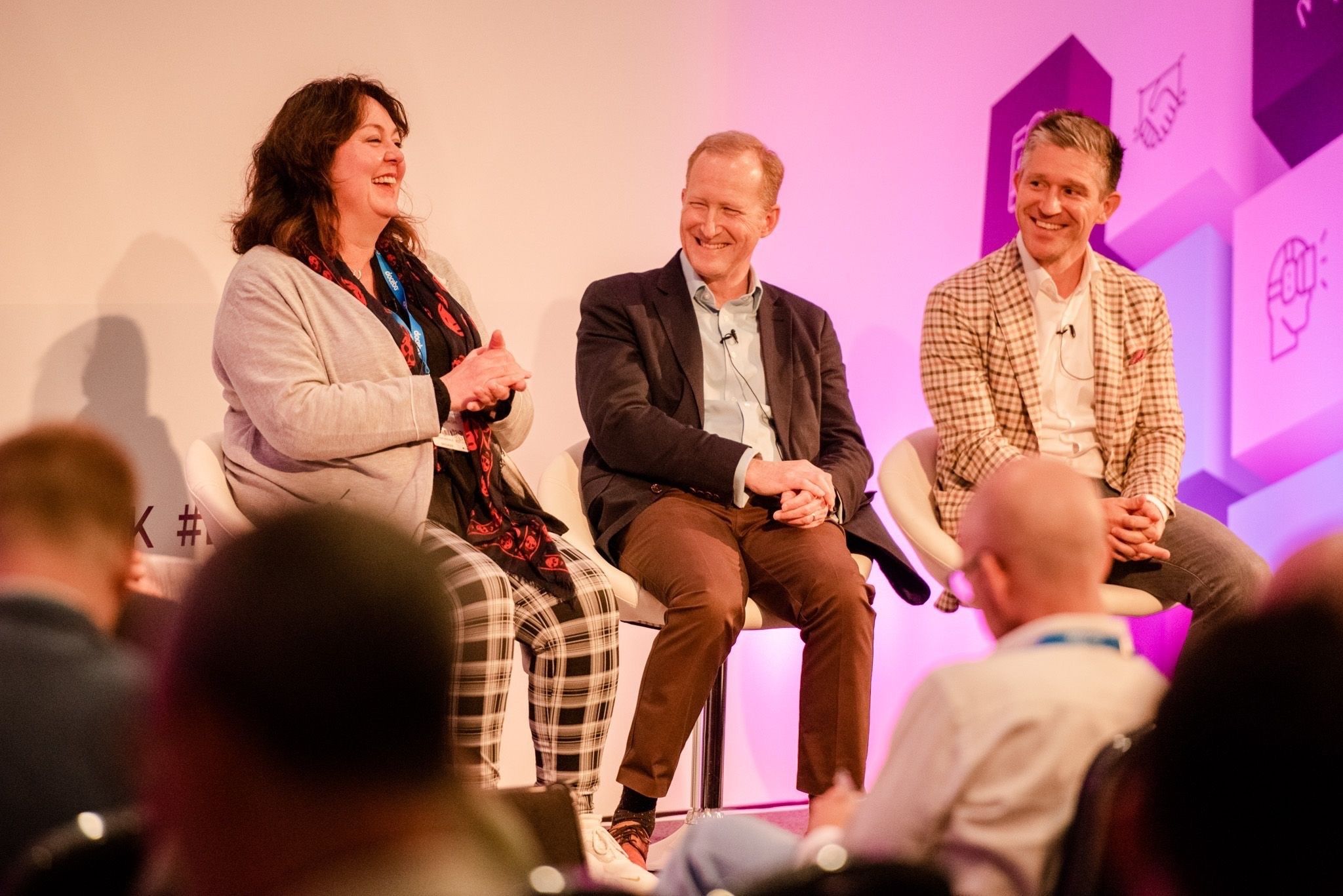 Lunch didn't mean that the sessions stopped. Co-founder of the #WomeninLearning movement hosted seven empowering speakers for a midday session of Women in Learning. Adebisi Adelaja, Zahra-Clarke Johnney, Stella Collins, Louise Huntington, Helen Leathard, Anu Obaro and Andrew Jacobs came together on stage to discuss how L&D can support women in ethnic minorities, elevate women in leadership roles and leverage remote working to expand the female senior talent pool. This session immersed the audience with team activities, before being invited to the stage to share their insights – truly giving everyone a voice.
The second and final day of the conference started with a secondary introduction from Donald, before an opening address from three keynote speakers. Marco Dondi, associate partner for MicKinsey & Company, HRTechRadar founder Anita Lettink, and finally Julia Hobsbawm, author of 'The Nowhere Office'. These speakers discussed 'Automation, skills and the disappearing office – facing the future of work', debating whether the workplace as we know is a future dystopian nightmare or a chance for change. One of Thursday's lunchtime sessions featured a 'meet the author' opportunity, with Susi Miller – creator of the 'Designing Accessible Learning Content' guide. This book illustrates practical tips for applying the best accessibility standards to L&D resources, with Susi covering some of the material and answering audience questions all around digital accessibility.
One of the final sessions was a live podcast! Andrew Jacobs, learning principal at Llarn, led the podcast with featured guest Liz Drury, voiceover artist at Liz Drury Voiceovers. This unique session opened with answering audience questions on how to design, create and distribute a successful podcast, before becoming one itself spearheaded by two experienced podcast creators. The conversation was buzzing with innovative debate on how podcasts can be used in L&D, for interviews, and how the narrative can truly inspire an audience. This was all very meta as the session did, in fact, inspire the audience.
The iconic L&D showcase
The free exhibition was open to all, and the numbers truly reflected this. Thousands of people came through the exhibition hall doors at ExCeL London, filling a vibrant and bustling space. The 200+ exhibitors provided the most inventive and immersive range of stands Learning Technologies has ever seen, with everything from basketball games to cocktail masterclasses – all in the name of learning! Every stand was colourful, interactive and unique to each exhibitor – making it more than just a market of L&D products. Visitors enjoyed the huge number of free L&D seminars and engaged in friendly conversations, soaking up the atmosphere of everyone passionate about L&D.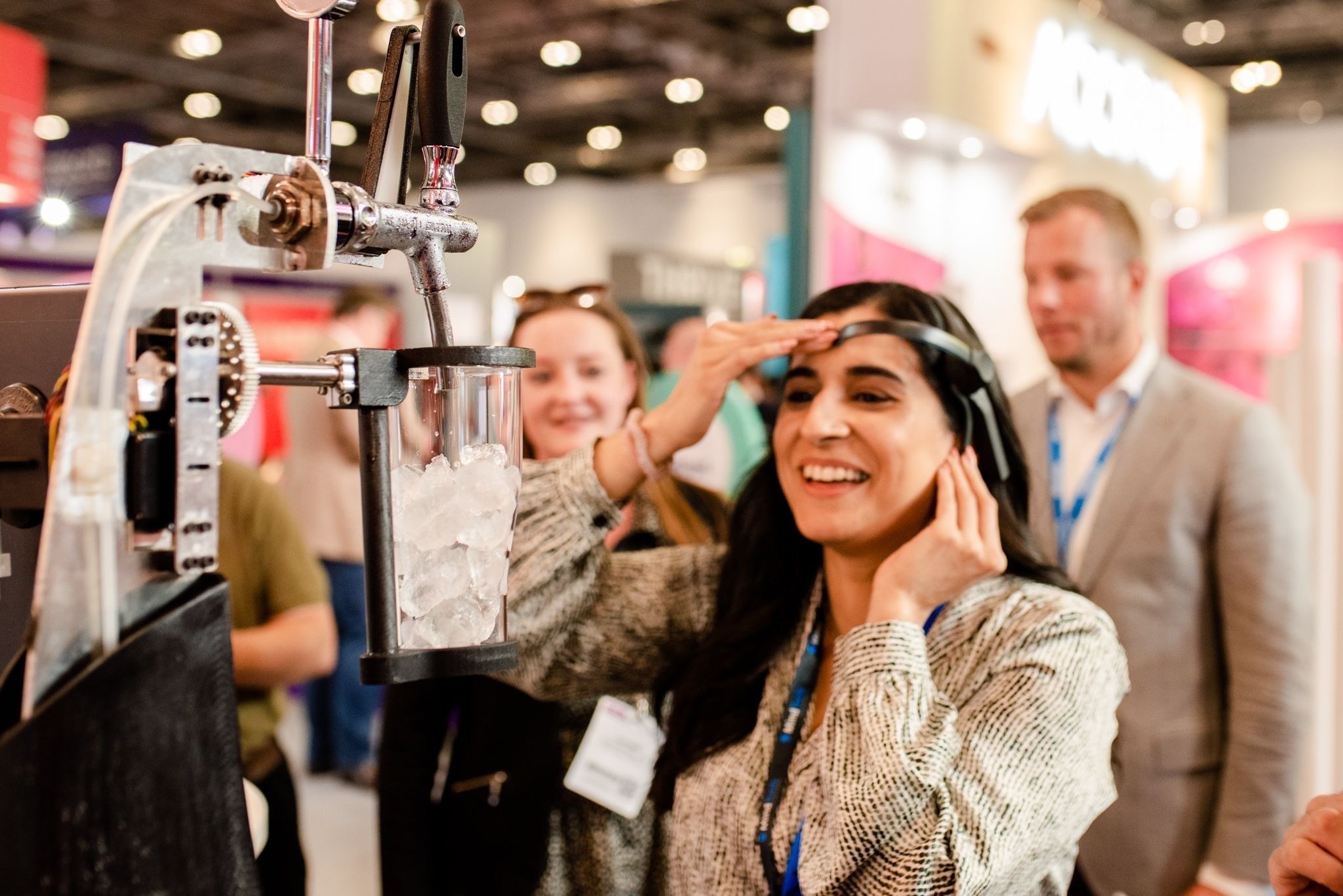 As well as the conversation down at the stands, the talks at each of the 200+ free seminars were flowing with inspiration. Among the fascinating topics covered include the use of smartphones in business, the eLearning strategies of established international organisations and the implementation of Artificial Intelligence (AI) and Virtual Reality (VR) – to every L&D need imaginable. Imagine VR products that allow teams to view intricate machinery for remote training, or an LMS that brings thousands of people across the globe together for personalised learning experiences – it was all at the free Learning Technologies Exhibition.
The Bitesize Learning Zones transformed conversations into live product demonstrations. These practical product demos addressed a range of innovations in L&D's progression in the digital age, with a session displaying how brain science is imperative to how we learn. You'll remember if you were at this session because you would have a purple elephant companion with you right now. Another memorable product demo was driven by in-depth tips and tools on how to implement successful digital learning in organisations, expertly aided by free chocolate. Other popular sessions covered how to create engaging training videos with limited time, exploring how to make your own VR training programme and a giant tiger showing you what's around the corner for L&D this year.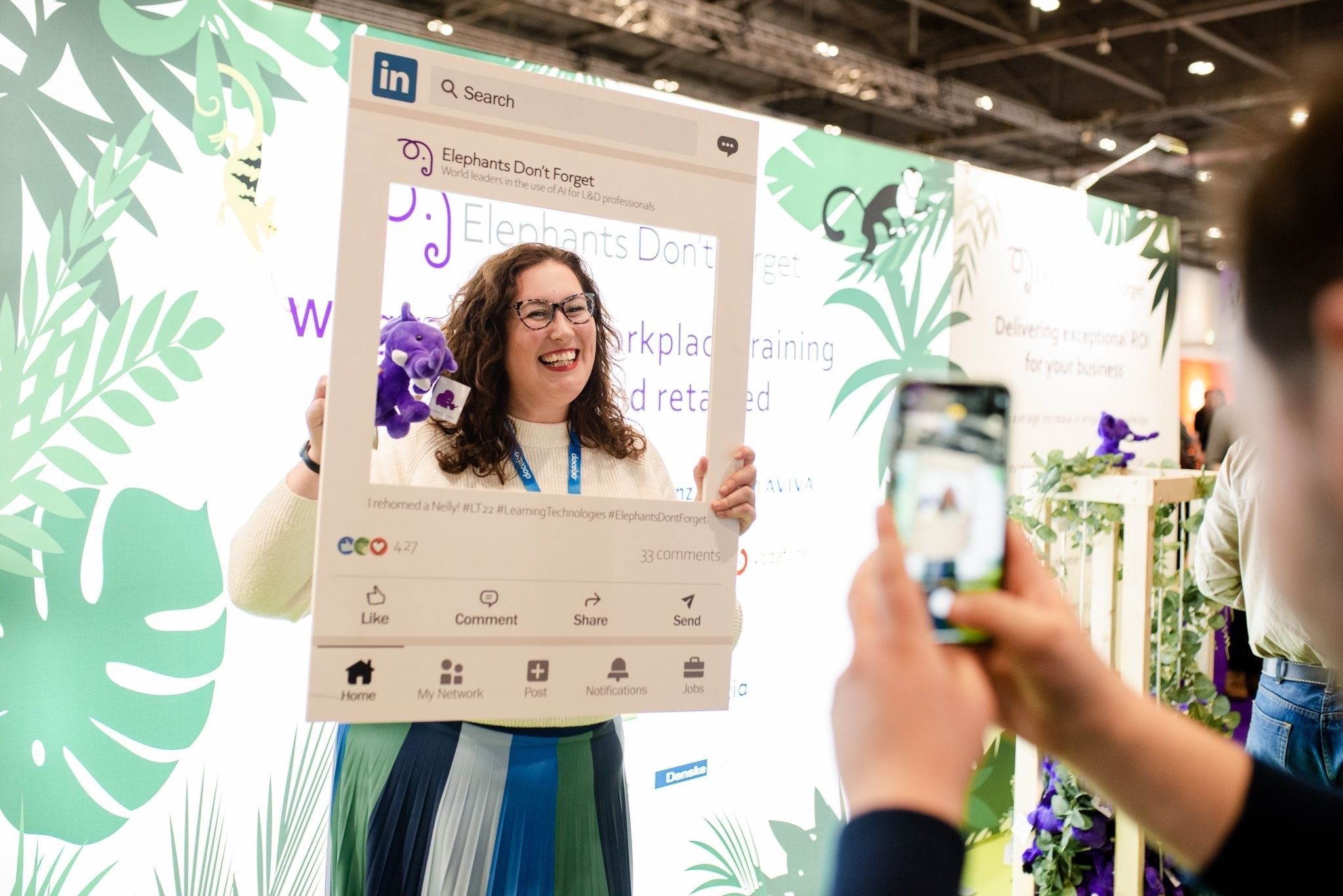 Overall thoughts and looking to 2023
The Learning Technologies Conference & Exhibition 2022 was a huge success, both as an L&D showcase and a front runner in the line of post-pandemic live events. The buzz was felt online as well as on-site, with the official hashtag #LT22UK trending on Twitter on the first day! If you were there at ExCeL London on 4-5 May, thank you again for your participation and dedication to Europe's leading workplace learning showcase. The dates for the next Learning Technologies Conference & Exhibition are officially confirmed and we invite you to join us again on 3-4 May 2023. Be sure to stay in touch with our monthly newsletter and check out our Digital Hub for the latest events updates and L&D industry news.